By Nathan Fine, of Manchester.
3rd May 1932
Page 93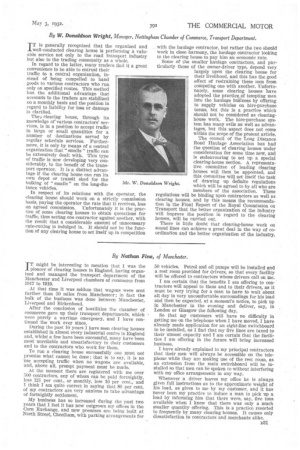 Page 93, 3rd May 1932 —
By Nathan Fine, of Manchester.
Close
TT might be interesting to mention that I was the 'pioneer of clearing houses in England, having organized and managed the transport department of the Manchester and Liverpool chambers of commerce from 1917 to 1019.
At that time it was seldom that wagons were sent farther than 50 miles from Manchester ; in fact the bulk of the business was done between Manchester, Liverpool and Birkenhead.
After the conclusion of hostilities the chamber of commerce gave up their transport departments, which were purely a wartime emergency, and I have continued the work ever since.
During the past 10 years I have seen clearing houses established in almost every industrial centre in England and, whilst a few have been successful, many have been most unreliable and unsatisfactory to their customers and to the contractors who work for them.
To run a clearing house successfully one must not promise what cannot be done ; that is to say, it is no use accepting traffic when no wagons are available, and, above all, prompt payment must be made.
At the moment there are registered with me over 500 contractors, any of whom can be paid fortnightly, less 12-1per cent., or monthly, less 10 per cent., and think I am quite correct in saying that 80 per cent. of my contractors are very anxious to take advantage of fortnightly settlement.
My business has so increased during the past two years that I feel it has now outgrown my offices in the Corn Exchange, and new premises are being built at North Street, Cheetham, with parking arrangements for 50 vehicles. Petrol and oil pumps will be installed and a rest room provided for drivers, so that every faculty will be offered to contractors whose drivers call on me.
I am certain that the benefits I am offering to contractors will appeal to them and to their drivers, as it must be very trying for a man to have to wait about all day in very uncomfortable surroundings for his load and then be expected, at a moment's notice, to pick up in Manchester in the evening and deliver, say, in London or Glasgow the following day.
s So that my customers will have no difficulty in getting me on the telephone when I have moved, I have already made application for an eight-line switchboard to be installed, as I find that my five lines are taxed to their utmost capacity and I am certain that the facilities I am offering in the future will bring increased business.
I have already explained to my principal contractors that their men will always be accessible on the telephone while they are making use of the rest room, as an extension from the main switchboard will be installed so that men can lie spoken to without interfering with my office arrangements in any way.
Whenever a driver leaves my office he is always given full instructions as to the approximate weight of his load, as given to me by my customer, and it has never been my practice to induce a man to pick up a load by informing him that there were, say, five tons available when I knew that there was only a much smaller quantity offering. This is a practice resorted to frequently by many clearing houses. It causes only dissatisfaction to contractors and merchants alike.