A New Articulated Six-wheeler Conversion
3rd May 1932
Page 90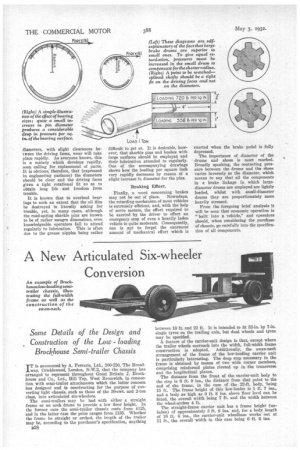 Page 90, 3rd May 1932 —
A New Articulated Six-wheeler Conversion
Close
IT is announced by A. Ferraris, Ltd., 200-220, The Broadway, Oricklewood, L031(1011, N.W.2, that the company has arranged to represent throughout Great Britain J. Brockhouse and Co., Ltd., Hill Top, West Bromwich, in connection with semi-trailer attachments which the latter concern has designed and is constructing for the purpose of converting light chassis, such as those of the 30-cwt. and 2-ton class, into articulated six-wheelers.
The semi-trailers may ba had with either a straight frame or an arch frame to provide a low floor height. In the former case the semi-trailer chassis costs from f125, and in the letter case the price ranges from £135. Whether the frame be straight or arched, the length of the trailer may be, according to the purchaser's specification, anything D28 between 16 ft. and 22 ft. It is intended to fit 32-in. by 7-in. single tyres on the trailing axle, but dual wheels and tyres may be specified.
A feature of the carrier-unit design is that, except where the trailer wheels encroach into the width, full-width frame construction is adopted. Additionally, the swan-neck arrangement of the frame of the low-loading carrier unit is particularly interesting. The deep step necessary in the frame is obtained by means of two wide corner members, comprising reinforced plates riveted up in the transverse and the longitudinal planes.
The distance from the front of the carrier-unit body to the step is 6 ft. 9 ins., the distance from that point to the end of the frame, in the case of the 22-ft body, •being 15 ft. The frame height of this low-loader is 1 ft. 7 ins., and a body as high as 9 ft. 8 ins, above floor level can be fitted, the overall width being 7 ft. and the width between the wheel-arches 4 ft.
The straight-frame carrier unit has a frame height (unladen) of approximately 3 ft. 8 ins, and, for a body length of 16 ft. 6 ins., the carrier-unit wheelbase works out at 11 ft., the overall width in this case being 6 ft. (l ins