ITEMS OF NEWS IN A FEW LINES
3rd May 1932
Page 87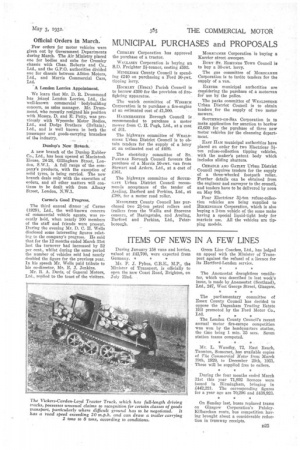 Page 87, 3rd May 1932 —
ITEMS OF NEWS IN A FEW LINES
Close
During January 158 vans and lorries, valued at £43,700, were exported from Germany. * Mr. P. J. Pybus, C.B.E., M.P., the Minister of Transport, is officially to open the new Coast Road, Brighton, on July 22nd. Green Line Coaches, Ltd., has lodged an appeal with the Minister of Transport against the refusal of a licence for its Hertford-London service.
The Anemostat draughtless ventilator, which was described in last week's issue, is made by Anemostat (Scotland), Ltd., 247, West George Street, Glasgow.
The parliamentary committee of Essex County Council has decided to oppose the Dagenham Trading Estate Bill promoted by the Ford Motor Co., Ltd.
The London County Council's recent annual motor fire-escape competition was won by the headquarters station, the time being 1 mm. 25 secs. Seven station teams competed.
Mr. L. Waudby, 72, East Reach, Taunton, Somerset, has available copies of The Commercial Motor from March 19th, 1929, to December 29th, 1931. These will be supplied free to callers.
During the four months ended March 31st this year 71,892 licences were issued in Birmingham, bringing in £442,221. The corresponding figures for a year ago are 70,206 and £438,923.
On Sunday last, buses replaced trams on Glasgow Corporation's PaisleyKilbarchan route, bus competition having brought about a considerable reduction in tramway receipts.