LOOSE LEAVES
3rd May 1932
Page 82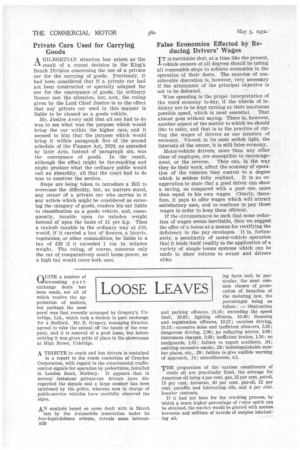 Page 83
Page 82, 3rd May 1932 —
LOOSE LEAVES
Close
QUITE a number of interesting p a r texchange deals has been made, not all of which receive the approbation of makers,
but perhaps the most
novel was that recently arranged by Gregory's, Uxbridge, Ltd., which took a donkey in part exchange for a Bedford. Mr. E. Gregory, managing director, agreed to take the animal off the hands of the company, and it is assured of a good home, but before retiring it was given pride of place in the showrooms at High Street, Uxbridge.
A TRIBUTE to coach and bus drivers is contained in a report to the roads committee of Croydon Corporation, with regard to the experimental trafficcontrol signals for operation by pedestrians, installed in London Road, Norbury. It appears that in several instances private-car drivers have disregarded the signals and a large number has been cautioned by the police, whereas men in charge of public-service vehicles have carefully observed the signs.
AN analysis based on cases dealt with in March last by the Automobile Association under its free-legal-defence scheme, reveals some interestn20
ing facts and, in particular, the most common classes of prosecution of breaches of the motoring law, the percentages being as follow: — Obstruction and parking offences, 21.05; exceeding the speed limit, 19.83; lighting offences, 13.46; licensing and registration offences, 10.27; careless driving, 10.13; excessive noise and inefficient silencers, 5.35; dangerous driving, 2.96; no reflecting mirror, 2,68; insurances charges, 2.03; inefficient brakes, 1.59; no mudguards, 1.01; failure to report accidents, .94; emitting excessive smoke, .29; indistinguishable number plates, etc., .29; failure to give audible warning of approach, .14; miscellaneous, 4.2.
THE proportions of the various constituents of crude oil are practically fixed, the average for American oil being 4 per cent. gas, 25 per cent. petrol, 15 per cent kerosene, 40 per cent. gas-oil, 12 per cent, paraffin and lubricating oils, and 4 per cent. heavier Contents.
If it had not been for the cracking process, by which a much higher percentage of rmtor spirit can be obtained, the market would be glutted with useless kerosene and millions of barrels of surplus lubricating oil. A RATRER novel method of economizing in engine repairs was described to us a few days ago. The engines concerned have sleeved cylinders when new; when a rebore is necessary sleeves of slightly smaller diameter are employed and the pistons are skimmed up as regards diameter and ring grooves. The new sleeves cost no more than those of the original size, and the machining of the pistons is cheaper than the provision of a new set.
IT is an interesting thing that in a period of dis tinctly bad trade, particularly as regards the motor industry, India actually imported more pneumatic tyres and tubes for motor vehicles during the nine months ended December, 1931, than during the corresponding period of 1930. Some suggest that the frequent transport of Gandhi and some of his followers from prison to Conference Hall and back again was in some measure responsible, but the real reason probably is to be found in the lower prices of tyres, for the total value of the bigger 1931 quantity was lower than the value in 1930.
THAT there are undoubtedly dealers who will go to a great deal of trouble to master the business and to give complete satisfaction to customers is evidenced by a Ford dealer in Kuusaino, Finland, which is 24 degrees south of the North Pole. He wished to attend courses of salesmanship and facilities of instruction organized in another town by the Ford Co. and, as the roads were at the time impassable to wheel vehicles, he travelled 300-400 miles on ski, being towed by reindeer.