Hauliers Take Heart !
3rd May 1932
Page 81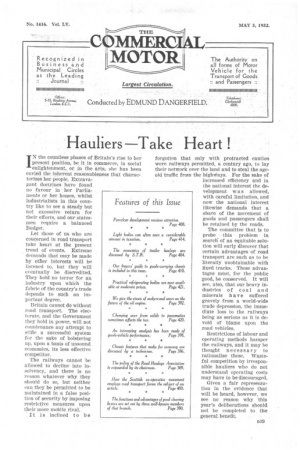 Page 81, 3rd May 1932 —
Hauliers Take Heart !
Close
IN the countless phases of Britain's rise to her present position, be it in commerce, in social enlightenment, or in the arts, she has been envied the inherent reasonableness that characterizes her people. Extrava gant doctrines have found no favour in her Parlia ments or her homes, whilst Industrialists in this country like to see a steady but not excessive return for their efforts, and our statesmen require a balanced Budget.
Let those of us who are concerned in road transport take heart at the present trend of events. Extreme demands that may be made by other interests will be listened to, but they will eventually be discredited. They hold no terror for an industry upon which the fabric of the country's trade depends to such an important degree.
Britain cannot do without road transport. The electorate, and the Government they hold in power, will not countenance any attempt to stifle a successful system for the sake of bolstering up, upon a basis of unsound economics, its less effective competitor.
The railways cannot be allowed to decline into insolvency, and there is no reason whatever why they should do so, but neither can they be permitted to be maintained in a false position of security by imposing restrictive measures upon their more mobile rival.
It is inclined to be forgotten that only with protracted caution were railways permitted, a century ago, to lay their network over the land and to steal the ageold traffic from the highvbays. For the sake of increased efficiency and in the national interest the de velopment w as allowed, with careful limitation, and now the national interest likewise demands that a share of the movement of goods and passengers shall be retained by the roads.
The committee that is to probe this problem in search: of an equitable solution will early discover that certain advantages of road transport are such as to be literally unobtainable with fixed tracks. These advantages must, for the public good, be conserved. It will see, also, that our heavy industries of coal and minerals have suffered gravely from a world-wide trade depression, the immediate loss to the railways being as serious as it is devoid of blame upon the road vehicles.
Restrictions of labour and operating methods hamper the railways, and it may be thought necessary to rationalize these. Wasteful competition by irresponsible hauliers who do not understand operating costs may have to be discouraged.
Given a fair representation in the evidence that will be heard, however, we see no reason why this year's deliberations should not be completed to the general benefit.