Variations in Insurance Premiums Explained
3rd May 1932
Page 134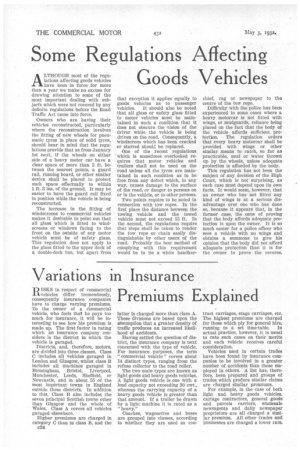 Page 134, 3rd May 1932 —
Variations in Insurance Premiums Explained
Close
WSliS in respect of commercial vehicles differ tremendously, consequently insurance companies have to charge varying premiums. To the owner of a Commercial vehicle, who feels that he pays too much for insurance, it will be interesting to see how his premium is made up. The first factor in rating which an insurance company considers is the district in which the vehicle is garaged.
Districts, and, therefore, motors, are divided into three classes. Class C includes all vehicles garaged in London and Glasgow, whilst class B includes all machines garaged in Birmingham, Bristol, Liverpool, Manchester, Leeds, Sheffield, or Newcastle, and in about 55 of the most important towns in England outside these districts. In addition to this, Class B also includes the seven principal Scottish towns other than Glasgow and the whole of Wales. Class A covers all vehicles garaged elsewhere.
Higher premiums are charged in category C than in class B, and the c24 latter is charged more than class A. These divisions are based upon the assumption that a greater density of traffic produces an increased likelihood of accidents.
Having settled the question of district, the insurance company is next concerned with the type of vehicle. For insurance purposes, the term "commercial vehicle" covers about 14 distinct types, ranging from the refuse collector to the road roller.
The two main types are known as light goods and heavy goods vehicles. A light goods vehicle is one with a load capacity not exceeding 30 cwt., whereas the carrying capacity of a heavy goods vehicle is greater than that amount. If a trailer be drawn by a light machine it is rated as a " heavy."
Coaches, wagonettes and buses are grouped into classes, according to whether they are used as con
tract carriages, stage carriages, etc. The highest premiums are charged for those which ply for general hire, running to a set time-table. In actual practice, however, it is usual to rate such cases on their merits and each vehicle receives careful consideration.
Vehicles used in certain trades have been found by insurance companies to be involved in a greater number of accidents than those employed in others. A list has, therefore, been prepared and groups of trades which produce similar claims are charged similar premiums,
For example, in the case of both light and heavy goods vehicles, cartage contractors, general goods and parcels carriers, wholesale newsagents and daily newspaper proprietors are all charged a similar premium. All other trades and businesses are charged a lower rate.