A Mobile Shop for Displaying Footwear
3rd May 1932
Page 133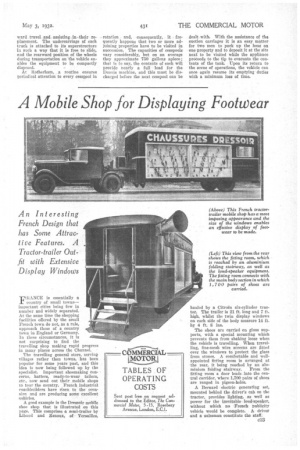 Page 133, 3rd May 1932 —
A Mobile Shop for Displaying Footwear
Close
FRANCE is essentially a country of small towns— important cities being few in number and widely separated. At the same time the shopping facilities offered by the small Preneli town do not, as a rule, approach those of a country town in England or Germany. In these circumstances, it is not surprising to find the travelling shop making rapid progress in many places across the Channel.
The travelling general store, serving villages rather than towns, has been popular for some years past, and this idea is now being followed up by the specialist. Important shoemaking concerns, hatters, ready-to-wear tailors, etc., now send out their mobile shops to tour the country. French industrial coachbuilders have risen to the occasion and are producing some excellent Nehicles.
A good example is the Dressoir mobile shoe shop that is illustrated on this page. This comprises -a semi-trailer by Libaud and Renoux, of • Versailles, hauled by a Citron six-cylinder tractor. The trailer is 21 ft. long and 7 ft. high, whilst the twin display windows on each side of the body measure 14 ft. by 4 ft. 8 ins.
The shoes are carried on glass supports, with a special mounting which prevents them from shaking loose when the vehicle is travelling. When travelling, fine-mesh wire screens are htted over the windows to protect the glass from stones. A comfortable and wellappointed fitting room is arranged at .the rear, it being reached by an aluminium folding stairway. From the fitting room a door leads into the central corridor, where 1,700 pairs of shoes are ranged in pigeon-holes.
A Bernard electric generating set, mounted behind the driver's cab on the tractor, provides lighting, as well as power for the inevitable loud-speaker, without which no French publicity vehicle would be complete. A driver awl a salesman constitute the staff.