Problems of the
3rd May 1932
Page 130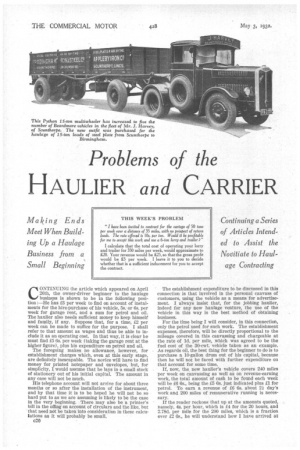 Page 131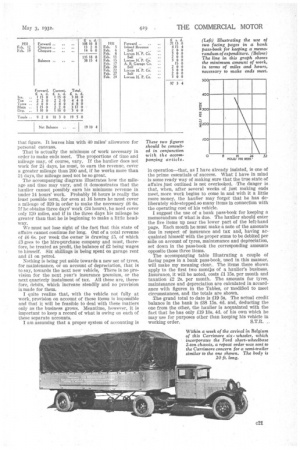 Page 130, 3rd May 1932 —
Problems of the
Close
HAULIER and CARRIER CONTINUING the article which appeared on April 26th, the owner-driver beginner to the haulage business is shown to be in the following position :—He has £3 per week to find on account of instalments for the hire-purchase of his vehicle, 5s. or 6s. per week for garage rent, and a sum for petrol and oil. The haulier also needs sufficient money to keep himself and family, if any. Suppose that, for a time, £2 per week can be made to suffice for the purpose. I shall refer to that amount as wages and thus be able to include it as an operating cost. In that way, it is clear he must find £5 Os. per week (taking the garage rent at the higher figure), plus his expenditure on petrol and oil.
The foregoing makes no allowance, however, for establishment charges which, even at this early stage, are definitely inescapable. The novice will have to find money for printed notepaper and envelopes, but, for simplicity, I would assume that he lays in a small stock of stationery out of his initial capital. The amount in any case will not be much,
His telephone account will not arrive for about three months or so after the installation of the instrument, and by that time it is to be hoped he will not be so hard put to as we are assuming is likely to be the case in the very beginning. There may also be a printer's bill in the offing on account of circulars and the like, but ' that need not be taken into consideration in these calculations as it will probably be small.
c20 The establishment expenditure to be discussed in this connection is that involved in the personal canvass of customers, using the vehicle as a means for advertisement. I always insist that, for the jobbing haulier, indeed for any new haulage venture, the use of the vehicle in this way is the best method of obtaining business.
For the time being I will consider, in this connection, only the petrol used for such work. The establishment expenses, therefore, will be directly proportional to the mileage covered in this canvassing and chargeable at the rate of id. per mile, which was agreed to be the fuel cost of the 30-cwt. vehicle taken as an example. As regards oil, the best thing for the beginner to do is to purchase a 10-gallon drum out of his capital, because then he will not be faced with further expenditure on that account for some time.
If, now, the new haulier's vehicle covers 240 miles per week on canvassing as well as on revenue-earning work, the total amount of cash to be found each week will be £6 6s., being the £5 6s. just indicated plus 11 for petrol. To earn a revenue of £6 6s. about 2i day's work and 200 miles of remunerative running is necessary.
If the reader reckons that up at the amounts quoted, namely, 4s. per hour, which is £4 for the 20 hours, and 2,78d. per mile for the 200 miles, which is a fraction over £2 Os., he will understand how I have arrived at
that figure. It leaves him with 40 miles' allowance for personal canvass.
That Is actually the minimum of work necessary in order to make ends meet. The proportions of time and mileage may, of course, vary. If the haulier does not work for 21 days, he must, to earn the revenue, cover a greater mileage than 200 and, if he works more than 21 days, the mileage need not be so great.
The accompanying diagram illustrates how the mileage and time may vary, and At demonstrates that the haulier cannot possibly earn his minimum revenue in under 14 hours' work. Probably 16 hours is really the least possible term, for even at 16 hours he must cover a mileage of 320 in order to make the necessary £6 6s. If he obtains three days' work (24 hours), he need cover only 120 miles, and if in the three days his mileage be greater than that he is beginning to make a little headway.
We must not lose sight of the fact that this state of affairs cannot continue for long. Out of a total revenue of £6 6s. per week the owner is drawing £5, of which £3 goes to tie hire-purchase company and must, therefore, be treated as profit, the balance of £2 being wages to himself. Six shillings is being spent on garage rent and on petrol.
Nothing is being put aside towards a new set of tyres, for maintenance, or on account of depreciation, that is to say, towards the next new vehicle. There is no provision for the next year's insurance premium, or the next quarterly instalment of tax. All, these are, therefore, debits, which increase steadily and no provision is made for them.
I quite realize that, with the vehicle not fully at work, provision on account of these items is impossible and that it will be feasible to deal with these matters only as the business grows. Meantime, however, it is important to keep a record of what is owing on each of these separate accounts.
I am assuming that a proper system of accounting is in operation—that, as I have already insisted, is one of the prime essentials of success. What I have in mind is some ready way of making sure that the true state of affairs just outlined is not overlooked. The danger is that, when, after several weeks of just making ends meet, more work begins to come in and with it a little more money, the hauler may forget that he has deliberately side-stepped. so many items in connection with the operating cost of his vehicle.
I suggest the use of a bank pass-book for keeping a memorandum of what is due. The haulier should enter the five items up near the lower part of the left-hand page. Each month he must make a note of the amounts due in respect of insurance and tax and, having acquainted himself with the proper sums to be debited per mile on account of tyres, maintenance and depreciation, set down in the pass-book the corresponding amounts opposite those three items.
The accompanying table illustrating a couple of facing pages in a bank pass-book, used in this manner, will make my meaning clear. The items there shown apply to the first two months of a haulier's business. Insurance, it will be noted, costs £1 155. per month and taxation £2 2s. per month. The amounts for tyres, maintenance and depreciation are calculated in accordance with figures in the Tables, or -modified to meet circumstances, and the totals are shown.
.The grand total to date is £19 5s. The actual credit balance in the bank is £38 15s. 4d. and, deducting the one from the other, the haulier is acquainted with the fact that he has only £19 10s, 4d. of his own which he may use for purposes other than keeping his vehicle in working order. S.T.R.