Operating
3rd May 1932
Page 124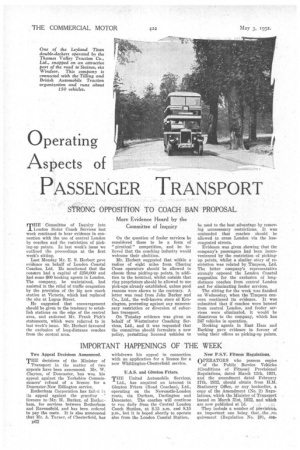 Page 124, 3rd May 1932 —
Operating
Close
Keywords :
Aspects of
PASSENGER TRANSPORT
STRONG OPPOSITION TO COACH BAN PROPOSAL
Committee of Inquiry into
T"
London Motor Coach Services last week continued to hear evidence in connection with the use of central London by coaches and the restriction of picking-up points. In last week's issue we outlined the proceedings at the first week's sitting.
Last Monday Mr. E. S. Herbert gave evidence on behalf of London Coastal Coaches, Ltd. He mentioned that the concern had a capital of £250,004) and had some 600 booking agents in London. The company, he maintained, had assisted in the relief of traffic congestion by the provision of the big new coach station at Victoria, which had replaced the site at Lupus Street.
He suggested that encouragement should be given to the tendency to establish stations on the edge of the central area, and endorsed Mr. Frank Pick's statements, which were referred to in last week's issue. Mr. Herbert favoured the exclusion of long-distance coaches from the central area. On the question of feeder services he considered these to be a form of "piratical" competition, and he believed that the coaching industry would welcome their abolition.
Mr. Herbert suggested that within a radius of eight miles from Charing Cross operators should be allowed to choose three picking-up points, in addition to the terminal, whilst outside that ring proprietors should be allowed to use pick-ups already established, unless good reasons were shown to the contrary. A letter was read from John Barker and Co., Ltd., the well-known store of Kensington, protesting against any unnecessary restriction or diversion of suburban transport.
On Tuesday evidence was given on behalf of Westminster Coaching Services, Ltd., and it was requested that the committee should formulate a new policy, permitting licensed vehicles to be used to the best advantage by removing unnecessary restrictions. It was contended that coaches should be allowed to cross London via the lesscongested streets.
Evidence was given showing that the company's passengers had been inconvenienced by the restriction of pickingup points, whilst a similar story of restriction was related by Timpson, Ltd. The latter company's representative strongly opposed the London Coastal suggestion for the exclusion of longdistance coaches from central London and for eliminating feeder services.
The sitting for the week was finished on Wednesday, when the Timpson concern continued its evidence. It was submitted that if coaches were banned from central London, and feeder services were eliminated, it would be disastrous to the company, which has 247 vehicles in operation.
Booking agents in East Ham and Barking gave evidence in favour of using their offices as picking-up points.