A Buyers' Guide to GOODS-CARRYING CHASSIS
3rd May 1932
Page 112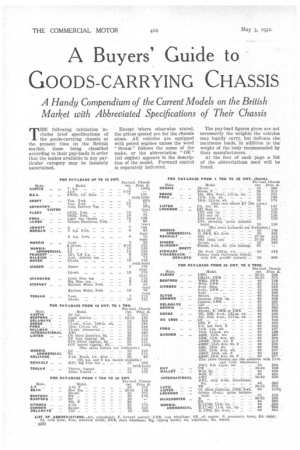 Page 112, 3rd May 1932 —
A Buyers' Guide to GOODS-CARRYING CHASSIS
Close
A Handy Compendium of the Current Models on the British Market with Abbreviated Specifications of Their Chassis
THE following tabulation includes brief specifications of the goods-carrying chassis at the present time on the British market, these being classified according to their pay-loads in order that the makes available in any particular category may be instantly ascertained.
Except where otherwise stated, the prices quoted are for the chassis alone. All vehicles are equipped with petrol engines unless the word " Steam" follows the name of the make, or the abbreviation " OE " (oil engine) appears in the description of the model. Forward control is separately indicated. The pay-load figures given are not necessarily the weights the vehicles may legally carry, but indicate the maximum loads, in addition to the weight of the body recommended by their manufacturers.
At the foot of each page a list of the abbreviations used will be found.