innovations in Double-deckers
3rd May 1932
Page 104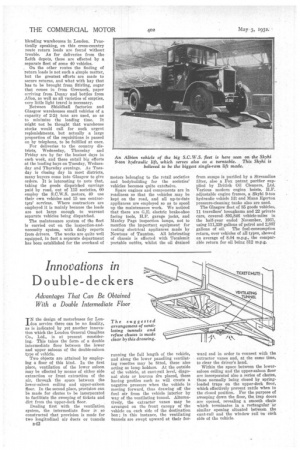 Page 104, 3rd May 1932 —
innovations in Double-deckers
Close
Advantages That Can Be Obtained With a Double Intermediate Floor
IN the design of motorbuses for London service there can be no finality, as is indicated by yet another innovation which the London General Omnibus Co., Ltd., is at present considering. This takes the form, of a double intermediate floor between the lower and upper saloons of the double-saloon type of vehicle.
Two objects are attained by employing a floor of this kind. In the first place, ventilation of the lower saloon may be effected by means of either side extraction or front extraction of the air, through the space between the lower-saloon ceiling and upper-saloon floor. In the second place, provision can be made. for chutes to be incorporated to facilitate the sweeping of tickets and dirt from the upper-deck floor.
Dealing first with the ventilation system, the intermediate floor is so constructed that provision is made for two longitudinal air ducts or tunnels D42 running the full length of the vehicle, and along the lower panelling ventilating rosettes may be fitted, these also acting as lamp holders. At the outside of the vehicle, at cant-rail level, diagonal slots or louvres ire placed, these having profiles such as will create a negative pressure when the vehicle is moving forward, thus drawing off the foul air from the vehicle interior by way of the ventilating tunnel. Alternatively, the extractor vanes may be arranged on the front canopy of the vehicle on each side of the destination box ; in this instance, the ventilating tunnels are swept upward at their for
ward end in order to connect with the extractor vanes and, at the same time, to clear the driver's head.
Within the space between the lowersaloon ceiling and the upper-saloon floor are incorporated also a series of chutes, these normally being closed by springloaded traps on the upper-deck floor, which effectively prevent rattle when in the closed position. For the purpose of sweeping down the floor, the trap doors are opened, revealing a smooth chute which terminates in a rectangular or similar opening situated between the cant-rail and the window rail on each side of the vehicle