ROAD TRANSPORT and the Scottish CO-OPERATIVE
3rd May 1932
Page 102
Page 103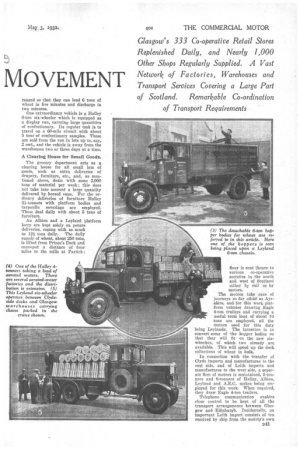 Page 104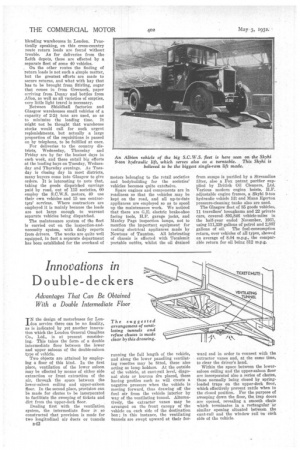 Page 102, 3rd May 1932 —
ROAD TRANSPORT and the Scottish CO-OPERATIVE
Close
MOVEMENT
THE extensive development of cooperative trading is one of the features of the present-day distribution of household stores in Scotland. The trade of the many co-operative societies has reached tremendous proportions and calls for a unified manufacturing and wholesale 'service to keep it supplied., This service is provided by the Scottish Co-operative Wholesale Society, Ltd., whieh has its head office and warehouses in Glasgow. Every day it supplies 333 co-operative retail stores in Glasgow, and, in addition, effects deliveries once, twice, thrice and even four times weekly to nearly 1,000 shops outside Glasgow.
There is a group of huge warehouses in the city, catering separately for furniture, grocery, stationery, fruit, sundries, drapery, etc., whilst at Shieldhall, which is a short distance down the Clyde, are situated several miles of factories producing boots, printing, hosiery, tinware, tobacco, chemicals, preserves, confectionery, pickles, sauces, coffee essence and furniture, At Partick, a few miles away, is a large flour mill, at Kilmarnock are ham-curing and aerated-water depots, whilst at Ryland, Kilbride, Wigtown and several other places are located creameries.. On the east coast, at Leith, are factories producing aerated waters, hosiery and preserves, as well as flour mills and oatmeal mills, also warehouses for furniture, groceries, etc. Irish and jute have to be brought regularly from Aberdeen, groceries come from Dundee, at Falkland are large ffooreloth and linen factories, whilst at Bladnoch are "Margarine and lard depots. Additionally, Glasgow imports from Northern Ireland considerable quantities of groceries, etc., whilst the Leith depot imports Danish butter, eggs and other produce.
It will be realized what a tremendous transport organization is needed to keep the balance of stock between factories, docks, warehouses and the retail shops. Motors, horsed vans, the D40 • railways and steamship lines are eelployed, but it may safely be said that were it not for the service rendered by commercial-Motor vehicles, the development of the whole movement would have been greatly hampered and perma nently limited. .
Big Tonnages Dealt With.
To give a few graphic figures, 10 tons of margarine arrive daily at Glasgow from distant creameries and have to be collected. The flour mills at Partiek require 1200, to 1,500 tons of wheat every week, Glasgow warehouses deal weekly with some 2,000 tons of groceries, and 2,000 tons of green fruit, etc. Every day about 5 tons of furniture are delivered, whilst the Glasgow drapery department alone employs four 2-2i-ton vehicles, each delivering two loads daily. As for the group of. factories at Shieldhall, it is reckoned that some 700 tons of material are received into and dispatched from this area weekly.
Needless to say, the organization of transport for this undertaking calls for the closest co-ordination to ensure a regularity of return loads, provision against duplicated journeys, maintenance of retailers' stock, special care of perishable goods, proper account of empties, inter-connection of journey time-tables, etc.
• In connection with the employment of motors, a decentralized control system with supervision at headquarters has been found necessary because the primary requirement is the division of the motor fleet, each important centre possessing its own vehicles. The maintenance arrangement, on the other band, has had to be unified so far as possible in order to minimize overhead costs.
The Glasgow fleet consists of about 87 vehicles in addition to 11 fitted travellers' vans, the latter comprising Austin 20 h.p. and Fiat chassis with suitable bodies. Halley, Leyland, Albion, Morris-Commercial and Guy vehicles of capacities ranging from 2-tonners up to maximum-load fourwheelers and six-wheelers constitute the main fleet.
Several special types of vehicle are employed. Lift-van bodies for the conveyance of furniture are used, there being overhead tackle for dealing with them. There are special cattle trueks, as well as a big Albion vehicle specially constructed to carry live or dead pigs. Wheat is conveyed in detachable steel bodies having a capacity of G tons. These are quickly fitted in place ' or removed and are ar ranged so that they can load 6 tons of wheat in five minutes and discharge in two minutes.
One extraordinary vehicle is a Halley 6-ton six-wheeler which is equipped as a display van, carrying large quantities of confectionery. Its regular task is to travel on a 60-mile circuit with about 5 tons of confectionery samples. These are sold from the van in lots up to, say, 2 cwt., and the vehicle is away from the warehouses two or three days at a time.
A Clearing House for Small Goods.
The grocery department acts as a clearing house for all small lots of goods, such as extra deliveries of drapery, furniture, etc., and, as mentioned above, deals with some 2,000 tons of material per week; this does not take into account a large quantity delivered by horsed vans. For the ordinary deliveries of furniture Halley 21-tonners with platform bodies and tarpaulin coverings are employed. These deal daily with about 5 tons of furniture.
An Albion and a Leyland platform lorry are kept solely on potato deliveries, coping with as much as 123 tons daily. The daily supply of wheat, about 250 tons, is lifted from Prince's Dock and conveyed a distance of four miles to the mills at Partick ; flour is sent thence, to various co-operative societies in the south and west of Scotland either by rail or by motors.
The motors take care of journeys so far afield as Ayrshire, and for this work.platform vehicles drawing .Eagle 4-ton trailers and carrying a useful total load of about 10 tons are employed, all the motors used for this duty being Leylands: The intention is to convert some of the hopper bodies 80 that they will fit on the new sixwheelers, of which two already are available. This will speed up the dock collections of wheat in bulk.
In connection with the transfer of Clyde imports and manufactures to the east side, and of Leith imports and manufactures to the west side, a separate fleet of motors is maintained, 5-tonflees and 6-tonners of Halley, Albion, Leyland and A.E.C. makes being employed for this work. When required, they draw Eagle 4-ton trailers.
Telephone communication enables close control to be kept of all the transport arrangements between Glasgow and Edinburgh. Incidentally, an important Leith import consists of tea received by ship from the society's own
blending warehouses in London. Practically speaking, on this cross-country route return loads are found without trouble. As for deliveries from the Leith depots, these are effected by a separate fleet of some 40 vehicles.
On the other routes the finding of return loads is not such a simple matter, but the greatest efforts are made to secure returns, and what with hay that has to be brought from Stirling, sugar that comes in from Greenock, paper arriving from Denny and bottles from Alloa, as well as all varieties of empties, very little light travel is necessary.
Between Shieldhall factories and Glasgow warehouses small vehicles of a capacity of 2-2i tons are used, so as to minimize the loading time. It might not be thought that warehouse stocks would call for such urgent replenishments, but actually a large proportion of the requisitions is passed on by telephone, to be fulfilled at once.
For deliveries to the country districts, Wednesday, Thursday and Friday are by far the busiest days in each week, and these entail big efforts at the loading bays on Tuesday, Wednesday and Thursday evenings. As Tuesday is closing day in most districts, many buyers come into Glasgow to give orders. It is interesting to note that, taking the goods dispatched carriage paid by road, out of 115 societies, 60 employ the S.C.W.S. motors, 40 use their own vehicles and 15 use contractors' services. Where contractors are employed it is mainly because the loads are not large enough to warrant separate vehicles being dispatched.
The maintenance system of the fleet is carried out on the inspection-andnecessity system, with daily reports from drivers. The works are quite well equipped, in fact a separate department has been established for the overhaul of motors belonging to the retail societies and bodybuilding for the societies' vehicles becomes quite extensive.
Spare engines and components are in readiness so that the vehicles may be kept on the road, and all up-to-date appliances are employed so as to speed up the maintenance work. We noticed that there are G.E. electric brake-shoe facing tools, R.F. garage jacks, and Manley Page inspection lamps, •not to mention the important equipment for testing electrical appliances made by Newtons of Taunton. All lubricating of chassis is effected with Tecalemit portable outfits, whilst the oil drained from sumps is purified by a Streamline filter, also a Fox patent purifier supplied by British Oil Cleaners, Ltd. Various modern engine hoists, B.F. adjustable engine frames, a Skyhi 9-ton hydraulic vehicle lift and Mann Egerton pressure-cleaning tanks also are used.
The Glasgow fleet of 85 goods vehicles, 11 travellers' broughams and 22 private cars, covered 895,846 vehicle-miles in the half-year ended November, 1931, using 111,339 gallons of petrol and 2,867 gallons of oil. The fuel-consumption return, over vehicles of all types, showed an average of 8.04 m.p.g., the comparable return for oil being 312 m.p.g.