An Analysis of GOODS
3rd May 1932
Page 100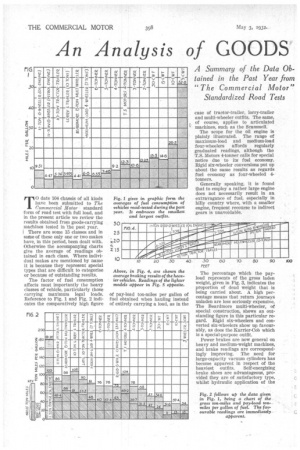 Page 101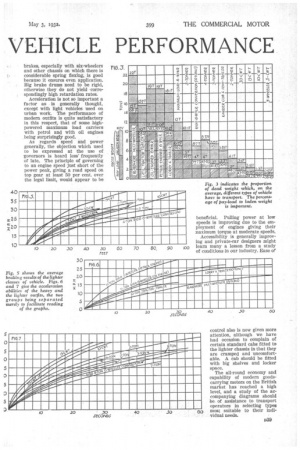 Page 100, 3rd May 1932 —
An Analysis of GOODS
Close
VEHICLE PERFORMANCE
r 0 date 104 chassis of all kinds have been submitted to The Commercial Motor standard form of road test with full load, and in the present article we review the results obtained from goods-carrying machines tested in the past year.
} There are some 15 classes and in Kane of these only one or two makes have, in this period, been dealt with. Otherwise the accompanying charts give the average of readings obtained in each class. Where individual makes are mentioned by name it is because they represent special types that are difficult to categorise or because of outstanding results.
The factor of fuel consumption affects most importantly the heavy classes of vehicle, particularly those carrying maximum legal loads. Reference to Fig. 1 and Fig. 2 indicates the comparatively high figure case of tractor-trailer, lorry-trailer and multi-wheeler outfits. The same, of course, applies to articulated machines, such as the Scammell.
The scope for the oil engine is plainly illustrated. The range of maximum-load and medium-load four-wheelers affords regularly graduated readings, although the T.S. Motors 4-tonner calls for special notice due to its fuel economy. Rigid six-wheeler conversions put up about the same results as regards fuel economy as four-wheeled 4tonners.
Generally speaking, it is found that to employ a rather large engine does not necessarily result in an extravagance of fuel, especially in hilly country where, with a smaller engine, frequent recourse to indirect gears is unavoidable.
The percentage which the payload represents of the gross laden weight, given in Fig. 3, indicates the proportion of dead weight that is being carried about. A high percentage means that return journeys unladen are less seriously expensive. The Beardmore multi-wheeler, of special construction, shows an outstanding figure in this particular regard. Rigid six-wheelers and converted six-wheelers show up favourably, as does the Karrier-Cob which is a special-purpose outfit.
Power brakes are now general on heavy and medium-weight machines, and brake readings are correspondingly improving. The need for large-capacity vacuum cylinders has become apparent in respect of the heaviest outfits. Self-energizing brake shoes are advantageous, provided they are of satisfactory type, whilst hydraulic application of the brakes, especially with six-wheelers and other chassis on which there is considerable spring flexing, is good because it ensures even application. Big brake drums need to be rigid, otherwise they do not yield correspondingly high retardation rates.
Acceleration is not so important a factor as is generally thought, except with light vehicles used On urban work. The performance of modern outfits is quite satisfactory in this respect, that of some highpowered maximum load carriers with petrol and with oil engines being surprisingly good.
As regards speed and power generally, the objection which used to be expressed at the use of governors is heard less" frequently of late. The principle of governing to an engine speed just short of the power peak, giving a road speed on top gear at least 50 per cent. over the legal limit, would appear to be beneficial. Pulling power at low speeds is improving due to the employment of engines giving their maximum torque at moderate speeds.
Accessibility is generally improving and private-car designers might learn many a lesson from a study of conditions in our industry. Ease of control also is now given more attention, although we have had occasion to complain of certain standard cabs fitted to the lighter chassis in that they are cramped and uncomfortable. A cab should be fitted with big shelves and locker space.
The all-round economy and capability of modern goodscarrying motors on the British market has reached a high level, and a study of the accompanying diagrams should be of assistance to transport operators in selecting types