"Your Intelligence You Down!'
3rd March 1944
Page 20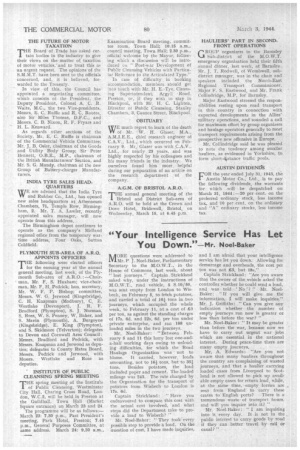 Page 20, 3rd March 1944 —
"Your Intelligence You Down!'
Close
Service Has 'L.et tit% Noel-Baker UTORE questions' were addressed to 1.V1 Mr. P J. Noel-Baker, Parliamentary Secretary to the 11,I.O.W.T., in the House of Commons last week, about " lost journeys." Captain ,Strickland asked why, under the instructions of M.O.W.T., road vehicle, 5 5,10/50, was sent empty from London to Wisbech, On February 5, to fetch potatoes, and carried a total of 16-1 tens in two journeys, which occupied the whole week, to February 11, at a cost of £3 per, ton, as against the standing charges of 17s. 6d. and 22s. 6d. per ton under private enterprise, and ran 188 unloaded miles in the two journeys.
Mr. Noel-Baker: "Between February 5 and 11. this lorry lost orie-ancra-half working days owing to unloading difficulties, for which the Road Haulage Organization was • not to blame. It carried, however, loads amounting, not to 161 tons, but to 351 tons. Besides potatoes, the load included paper and cement. The loaded mileage was 243. The rate charged by the Organization for the transport of potatoes from Wisbech to London is .17s. 6d.
Captain Strickland: " Have you endeavoured to compare thiscost with the actual cost involved, and what steps did the DepartMent take to provide a load to Wisbech? " Mr. Noel-Baker: " They took every possible step to provide a load. On the auestion of cost, I have made inquiries, and I am afraid that your intelligence. service has let you down. Allowing for demurrage and overheads, the cost pet ton was not £3, but I8s.." ' Captain Strickland: "Are you aware that the owner of the vehicle asked' the controller whether he could send a load,
and was told ' No '? Mr. NoelBaker "If you will give me the' information, I will make inquiries." Mr. J. Griffiths; " Can you give any indication whether the number of empty journeys run now is greater or less than before the war? "
Mr. Noel-Baker ' " It may be greater than before the war, because now we have to carry out urgent war jobs which are essential in the national interest. During peace-time there are many empty journeys.
Mr. A. Edwards: "Are you not . .aware that many hauliers throughout the country are complaining of Wasted journeys, and that a haulier carrying loaded, cases from Liverpool to Scotland is not allowed to .pick up avail:. able empty cases for return load, while, at the same tittle, empty lorries are , sent from England to carry these crates to English ports? There is a tremendous wasteof transport hours, and will you inquire into it? "
Mr. Noel-Baker: " I am inquiring into it every day. It is not in the, public interest 'to carry goods by road if they can better travel by rail Or canal? "