Personal Pars
3rd March 1944
Page 19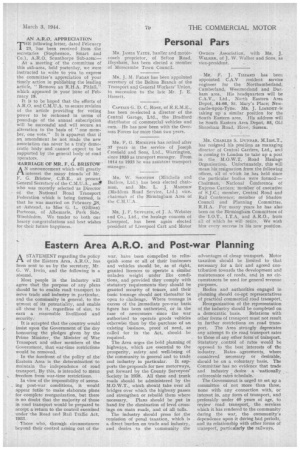 Page 19, 3rd March 1944 —
Personal Pars
Close
MR, JAMES YATES, haulier and motorcoach proprietor, of 'Sefton Road, Heysham, hat been elected a member of Morecambe Town Council.
MR. J. M. FAGAN has been appointed secretary of the Bolton Branch of the Transport and General Workers' Union, in succession to the late Mr. j. E. HaSsett.
CAPTAIN G. D. C. ROSE, of R.E.M,E., has been re-elected a director of the Central Garage, Ltd., the Bradford distributor of commercial vehicles and cars. • He has now been with the Over. seas Forces for more than two years.
M. F. G. RICKETTS has retired after 37 years in the service of Joseph Crosfield and Sons, Ltd., Warrington; since 1933 as transport manager. From 1914 to 1933 he was aseistant transport manager.
MR. W. SHOTTON (Mitcheils and Butlers, Ltd.) has been elected chairman, and MR. L. J. MADDEN (Maddens. Road Service, Ltd.) vicechairman of the Birmingham Area of
the C.M.U,A. •
MR. J. F. Sonerws,' of J. A. Webster and Co., Ltd., the haulage concern of Liverpool, has been again elected president of Liverpool Cart and Motor
Owners Association, with Mi. J. • WALKER, of J. W. Walker and Sons: as vice-president.
MR, F. J. TrzzAnn has been appointed C.A.V resident service engineer for the Northumberland, Cumberland; Westmorland and Durham area. His headquarters will be CAN., Ltd., North Eastern Area Depot, 64-66, St. Mary's Place; Newcastle-Upon-Tyne. MR. J. LIARDET is taking up a similar position for the South Eastern area, His address will be South Eastern Area Depot, 85, Old Shoreham Road, Hove, Sussex.
MR. CHARLES S. DUNBAR, M.Inst.T.. has resigned his position as managing director of Central Carriers, Ltd.. and is coming to London to take up a post in the M.O.W.T. Road Haulage Organization. Unfortunately, this will mean hisresig,nation from the following offices, all of which he has held since the, particular bodies were formed:— Chairman, National Conference of Express Carriers; member of executive of S.J.C.; Member, Central Road and Rail Conference; member of Shadow Council and Planning Committee, R.H.A. For many years he has also been on the Birmingham Committees of the -I.O.T., I.T. A. and A.R.O., from all of which he will retire, We wish him every success in his new position.