News of the Week
3rd March 1944
Page 18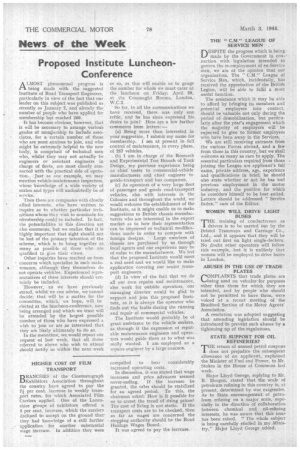 Page 18, 3rd March 1944 —
News of the Week
Close
Proposed Institute LuncheonConference AI,MOST phenomenal progress is being made with the suggested Institute of Road TransportEngineers, particularly in view of the fact that our leader on this subject was published as recently as January 7, and already the number. of people who have applied for membership has reached 260.
It has become obvious, however, that it will be necessary to arrange various grades of menabership to include associates, for a certain number of those who are most anxious to join, and who might be extremely helpful to the new body, is comprised of technical men who, whilst they may not actually be engineers or assistant engineers in charge of fleets, are most closely connected with the practical side of operation. Just as one example, we may mention vehicle-maintenance inspectors, whose knowledge of a wide variety of makes and types will undoubtedly -be of service.
Then there are companies with closely allied interests, who have written to inquire as to whether particular technicians whom they wish to nominate for Membership could be included. In fact, the potentialities in this . direction are also enormous, but we realize that it is highly important that sight should not he lost of the primary -intention of the scheme, which is to bring together as many as possible of those whO are qualified to give their views..
Other inquiries have reached us from concerns which *specialize in such maintenance, although they themselves do not operate, vehicles. Experienced representatives of these interests should `certainly be included.
'However, as We have previously stated, whilst we can advise, we Cannot decide; that will be a matter for the committee, which: we hope, will be elected at the luncheon-conference, now being arranged and which We trust will be attended' by the largest possible number, of those who have expressed a wish to join or .are so interested that they are likely ultimately to do so,
In the meantime, we would repeat our request of last week, that all those referred to above who wish to attend should notify us within the next week
or so, as this will enable us to gauge the number for whom we 'must cater at the luncheon on. Friday; April 28, at the Connaught Rooms, London, W.C.2.
So far, in all the communications we have received; there was only one critic, and he has since expressed his desire to join 1 Here are a few further comments from letters':—
(a)Being more than interested in your suggestion, I submit my name for membership. I am at present in full control of maintenance, in every phase, of 257 vehicles.
(b) I am in .charge of the Research and Experimental Test Branch of Tank Design, my previous experience being as chief tester to commercial-vehicle manufacturers and chief engineer to goods-transport and bus companies.
(c) As operators of a very large fleet of passenger and goods road-transport vehicles, also with interests in the Colonies and throughout the world, we would welcome the establishment of the Institute, as it might enable us to make suggestions to British chassis manufacturers who are interested in the export market as to how their representation can be improved or technical modifications made in order to compete with foreign desi,ens. Large numbers of chassis are purchased by us through local agents and our experience may be of value to the manufacturers'. We feel that the proposed Institute would meet a real need and we would like to make application covering our senior _transport engineers. ,(d) In view of the fact that we do all our Own repairs and maintenance, also work for outside operators, our managing director would be glad to support and join this proposed Institute, as it is always the operator who finds out the faults during the running and repair of commercial vehicles.
The Institute would probably be of great assistance to the vehicle makers, as through it the expression of reputable maintenance engineers and opera. tors would guide them as to what was really wanted. I am employed as a repairs engineer by a large concern.