One Hears—
3rd March 1944
Page 17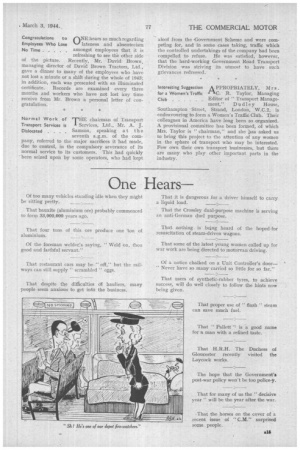 Page 17, 3rd March 1944 —
One Hears—
Close
Of too many vehicles standing idle when they might be sitting prett3r.
That bauxite (aluminium ore) probably commenced to form 33,000,000 years ago.
That four tons of this ore produce one 'ton of aluminium.
Of the foreman weldef.s saying, " Weld on, thou good and faithful servant."
That restaurant cars may be "off," but the railways can still supply " scrambled " eggs.
That despite the difticulties of hauliers, many people seem anxious to get inth the business.
That it is dangerous for a -driver himself to carry a liquid load.
That the Crossley dual-purpose machine is serving an anti-German duel purpose.
That nothing is being heard of the hoped-for resuscitation of steam-driven wagons.
That some of the latest young women called up for war work are being directed to motorvan driving.
Of a notice chalked on a Unit Controller's door" Never have so many carried so little for so far."
That users of synthetic-rubber tyres, to achieve success, will do well closely to follow the hints now being given.
That proper use of " flash " steam can save much fuel.
That " Pallett ". is 'a good .name for a man with a reffned taste.
That H.R.H. The Duchess of Gloucester recently visited the Layeock works.
The hope that the Government's post-war policy won't be too police-y.
That for many of us the " decisive year" will be the year after the war.
That the horses on the cover of a recent issue of "C.M." surprised some people.