Passing• Comments
3rd March 1944
Page 16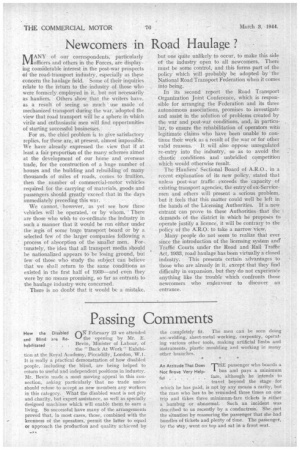 Page 17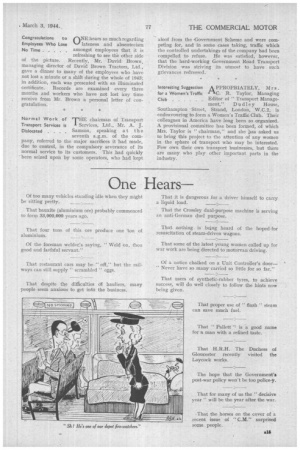 Page 16, 3rd March 1944 —
Passing• Comments
Close
How the Disa.bledrig. February 23 we attended and Blind are Rethe opening by Mr. E.
habilitated . . . Bevin, Minister of Labour, of
the "Back At Work" Exhibition at the Royal Academy, Piccadilly, London, W.1. it is really a practical demonstration of how disabled people, including the blind, are being helped to return to useful and independent positions in industry. Mr. Bevin made a most moving appeal in this connection, asking particularly that no trade union should refuse to accept as new members any workers in this category. What the disabled want is not pity. and charity, but expert assistance, as well as specially designed machines which will enable them to earn a living. ,So successful have many of the arrangements proved that, in most cases, those, combined with the keenness of the operators, permit the latter to equal or approach the production and quality achieved by
the completely fit. The men can be seen doing arc-welding, sheet-metal working, carpentry, operating various other tools, making artificial, limbs and instruments, plastic moulding and working in many other branches.
THE passenger who boards a bus and pays a minimum fare, although he intends to travel. beyond the stage for which he has paid, is not by any means a rarity, but the man who has to be reminded three, times on one trip and takes three minimum-fare tickets is .either a humbug or abnormal. Such, an incident was described to us recently by a conductress. Sheltnet the situation by reassuring the passenger that she had bundles of tickets and plenty of time. The passenger, by the Way, .went on top and sat ina front seat. An Attitude That Does Not Rrove Very Helpful nNE hears so much regarding
Employees Who Lose No Time lateness and absenteeism amongst employees that it is refreshing to see the other side of the picture. Recently, Mr. David Brown, managing director of David Brown Tractors, Ltd., gave a dinner to many of the employees who have not lost a minute or a shift during the whole of 1943; in addition, each was presented with an illuminated certificate. Records are examined every three months and workers who have not lost any time receive from Mr. Brown a personal letter of congratulation.
Normal Work of T'HE chairman of Transport Transport Services Is 1 Services, Ltd., Mr. A. J. Dislocated . . . Samson, speaking at the
seventh a.g.m. of the company, referred to the major sacrifices it had made, due to control, in the compulsory severance of its normal service to its customers. This had quickly been seized upon by some operators, who had kept aloof from the -Government Scheme and were competing for, and in some cases taking, traffic which the controlled undertakings of the company had been compelled to refuse. He was satisfied, however, that the hard-working Government Road Transport Division was striving its utmost to have such grievances redressed.
Interesting Suggestion A PPROPRIATELY, Mrs. for a Women's Traffic 4-1.C. R. Taylor, Managing
Club Editor of " Transport Manage
ment," Dudley House, Southampton Street, Strand, London, W.C.2, is endeavouring to form a Women's Traffic. Club: Their colleagues in America have long been so organized. A provisional committee has been formed, of which Mrs. Taylor is "chairman," and she jaas asked us to bring this project to the attention of any women in the sphere of transport who may be interested. Few own their own transport businesses, but there are many who play other important parts in the ' industry.