• ONE HEARS
3rd March 1925
Page 3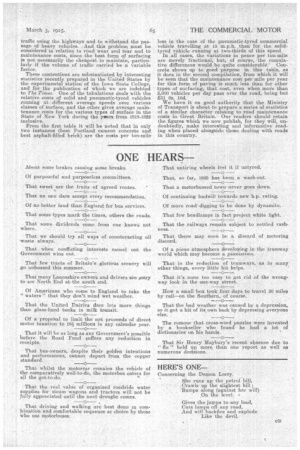 Page 3, 3rd March 1925 —
• ONE HEARS
Close
About some brakes causing some breaks. • That untiring Of purposeful and purposeless committees. That sweet are the fruits of agreed routes. That no one dare accept every recommendation.
Of no better land than England for bus services.
That some types mark the times, others the roads.
That some dividends come from one knows not where.
That we should try all ways of counteracting oil -waste always.
That when conflicting interests cancel out the Government wins out.
That few tracts of Britain's glorious scenery will go unbussed this summer..
That many Lancashire owners and drivers are sorry to see North End at the south end.
Of Americans who come to England to take the " waters " that they don't mind wet weather.
That the United Dairies dare lots more things than glass-lined tanks in milk transit.
Of a propdsal to limit the net proceeds of direct motor taxation to 16-?,millions in any calendar year.
That it will be as long as any Government's possible before the Road Fund suffers any reduction in receipts.
That bus-owners, despite their golden intentions and performances, cannot depart from the copper standard.
That whilst the motorcar remains the vehicle of the comparatively well-to-do, the motorbus caters for all the got-to-do. ° That the real value of organized roadside water supplies for steam wagons and tractors will not be fully appreciated until the next drought comes.
That -driving and walking are best done in Corn. bination and comfortable sequence at choice by those Who use motorbuses.
wheels feel it if untyred. 1925 has been a wash-out.
That a motorbussed town .never goes down. Of continuing badwill towards new h.p. rating.
Of more road digging to be done by dynamite.
That few headlamps in fact project white light.
That the railways remain subject to nettled rashness.
That there may soon be a discard of motoring discord.
Of a piano atmosphere developing in the tramway world which may become a pianissimo.
That in the reduction of tramways, as in many other things, every little bit helps.
That it's none too easy to get rid of the wrongway look in the one-way street.
How a small box took four days to travel 30 miles by rail—on the Southern, of course.
That the bad weather was caused by a depression, so it got a bit of its own back by depressing everyone else.
The rumour that cross-word puzzles were invented by a bookseller who found he had a lot of dictionaries on his hands.
That Sir Henry Maybury's recent absence due to " flu " held up more than one report as well as numerous decisions.