OPINIONS FROM OTHERS.
3rd March 1925
Page 24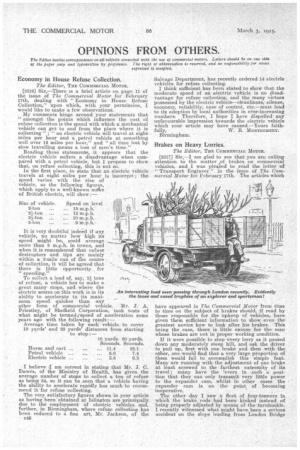 Page 24, 3rd March 1925 —
OPINIONS FROM OTHERS.
Close
The Editor invites correspondence on all subjects connected with the use of commercial motors. Letters should be on one side Of the paper only and typewritten by preference. The right of abbreviation is reserved, and no responsibitity for views
expressed is accepted.
Economy in House Refuse Collection.
The Editor, THE COMMERCIAL MOTOR.
[2316] Sir —There is a brief article on page 11 of the issue of The Commercial Motor for February 17th, dealing with " Economy in House Refuse Collection," upon which, with your permission, I would like to make a few observations.
My comments hinge around your statements that "amongst the points which influence the cost of refuse collection is the speed with which a mechanical vehicle can get to and from the place where it is collecting ".; " an electric vehicle will .travel at eight miles per hour and a petrol vehicle at something well over 12 miles per hour," and " all time lost by slow travelling means a loss of men's time."
Reading these statements, it appears that the electric vehicle suffers a disadvantage when compared with a petrol vehicle, but I propose to show that, on refuse collecting, this is not SO.
In the first place, to state that an electric vehicle travels at eight miles per hour is incorrect; the speed varies with the size of vehicle, as the following figures, which apply to a well-known make of British electric, will show : Size of vehiele. Speed on level 2-ton ... ... 15 m.p.h. 21-ton ... 12 m.p.h. 31-ton ... 10 m.p.h. 5-ton 9 m.p.h.
It is very doubtful indeed if any vehicle, no matter how high its speed might be, could average more than 8 m.p.h. in towns, and when it is remembered that refuse destrugtors and tips are mainly within a 2-mile run of the centre of collection, it will be agreed that there is little opportunity for " speeding!' To collect a load of, say, 31 tons of refuse, a vehicle has to make a great many stops, and where the electric scores on this work is in its ability to accelerate to its maximum speed quicker than any other form of commercial vehicle. Mr. J. A. Priestley, of Sheffield Corporation, took tests of what might be termedispeed of acceleration some years ago with the following result:—
Average time taken by each vehicle to cover 10 yards' and 20 yards distances from starting to stop :—
pc.
Horse and cart ... Petrol vehicle ... Electric vehicle ... 10 yards. 20 yards. Seconds. Seconds. .. 11.4 22.1 .. 5.0 7.4 ... 2.8 6.2 I believe am correct in stating that Mr. J. C.
Dawes, of the Ministry of Health, has given the average number of stops to collect a ton of refuse as being 54, so it can be seen that a vehicle having the ability to accelerate rapidly has much to recommend-it for refuse 'collecting.
The very satisfactory figures shown in your article as having been obtained at Islington are principally, due to the employment of electric vehicles and, further, in Birmingham, where refuse collecting has been reduced to a fine art, Mr. Jackson, of the o40 Salvage Department, has recently ordered 14 electric vehicles for refuse collecting.
I think sufficient has been stated to show that the moderate speed of an electric vehicle is no disadvantage for refuse collecting, and the many virtues possessed by the electric vehicle—cleanliness,' silenee, economy, reliability, ease of control, etc.—must lead to its adoption by' local authorities in ever-increasing numbers. Therefore, I hope I have dispelled any unfavourable impression towards the electric vehicle which your article may have caused.—Yours faith
fully, W. R. MONTGOMERY. Birmingham.
Brakes on Heavy Lorries.
The Editor, TEE COMMERCIAL MOTOR.