A CHASSIS TO MEET COLONIAL CONDITIONS.
3rd March 1925
Page 20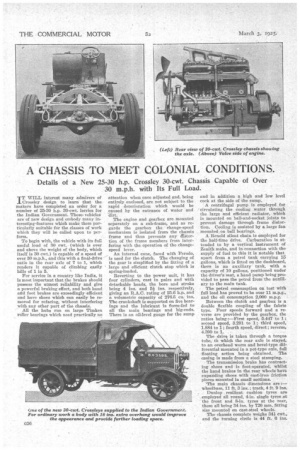 Page 20, 3rd March 1925 —
A CHASSIS TO MEET COLONIAL CONDITIONS.
Close
Details of a New 25-30 h.p. Crossley 30-cwt. Chassis Capable of Over 30 m.p.h. with Its Full Load.
IT WILL interest many admirers of .Crossley design to learn that the makers have completed an order for a number of 25-30 h.p. 30-cwt. lorries for the Indian Government. Thesevehicles are of new design and embody many interestiprfeatures which make them particularly suitable for the classes of work which they will be called upon to perform.
To begin with, the vehicle with its full useful load of 30 cwt. (which is over and above the weight of the body, which itself is 30 cwt.) is capable of a speed of over 30 m.p.h., and this with a final-drive ratio in the rear axle of 7 to 1, which renders it capable of climbing easily hills of 1 in 5.
For service in a country like India, it is most important that the brakes should possess the utmost reliability and give a powerful braking effect, and both hand and foot brakes are exceedingly efficient and have shoes which can easily be removed for refacing, without interfering with any other part of the chassis.
All the hubs run on large Timken roller bearings which need practically no attention when once adjusted and, being entirely enclosed, are not subject to the rapid deterioration which would be caused by the entrance of water and dirt.
The engine and gearbox are mounted separately on a sub-frame, and as regards the gearbox the change-speed mechanism is isolated from the chassis frame and thus prevents any distortion of the frame members from interfering with the operation of the changespeed lever.
An internal cone faced with Perodo, is used for the clutch. The changiiv,b of the gear is simplified by the fitting of a large and efficient clutch stop which is spring-loaded.
Reverting to the power unit, it has four cylinders, east in pairs and with detachable heads, the bore and stroke being 4 ins. and 5i. ins. respectively, givirv, an R.A.C. rating of 25.6 h.p. and a volumetric capacity of 276.5 cu. ins. The crankshaft is supported on five bearings and the lubricant is force-fed to all the main bearings and big-ends. There is an oil-level gauge for the sump
and in addition a high and low level cock at the side of the sump.
A centrifugal pump is employed for
• circulating the cooling water through the large and efficient radiator, which is mounted on ball-and-socket joints to prevent damage through frame distortion. Cooling is assisted by a large fan mounted .on ball bearings.
A Remold silent chain is employed for the half-time drive. Carburation is attended to by a vertical instrument of Zenith make, and in connection with the supply of fuel to this it is notable that apart from a petrol tank carrying 15 gallons, which is fitted on the dashboard, there is an auxiliary tank, with a capacity of 10 gallons, positioned tinder the driver's seat, a hand pump being provided to pass the petrol from the auxili. ary to the main tank.
The petrol consumption on test with full load has proved to be over 11 m.p.g., and the oil consumption 2,000 m.p.g.
Between the clutch and gearbox is a double flexible coupling of the fabric type. Four speeds forward and a reverse are provided by the gearbox, the ratios being :—First speed, 5.447 to 1: second speed, 3.201 to 1; third speed; 1.884 to 1; fourth speed, direct ; reverse, 4.209 to 1.
The drive is taken through a torque tube, -Co which the rear axle is stayed. to an overhead worm and bevel-type differential mounted in a pot-type axle, full floating action being obtained. The casing is made from a steel stamping.
The transmission brake has contracting shoes and is foot-operated, whilst the hand brakes in the rear wheels have expanding shoes with cast-iron friction pieces mounted in small sections. '
\The main chassis dimensions are :— wheelbase, 11 ft. 3 ins.; track, 4 ft. 9 ins.
Dunlop resilient cushion tyres are employed all round, 4-in, single tyres at • the front and 8-in. tyres at the rear, these all being 34 ins. by 720 ram. fitting size mounted on cast-steel wheels. The chassis complete weighs 343. cwt., and the turning chyle is 44 ft. 6 ins.