Logan's on the brink of release
3rd July 2003
Page 5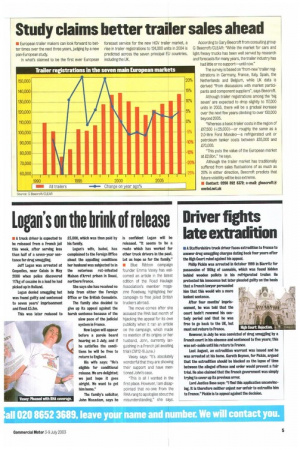 Page 5, 3rd July 2003 —
Logan's on the brink of release
Close
111 A truck driver is expected to be released from a French jail this week, after serving less than half of a seven-year sentence for drug smuggling.
Jeff Logan was arrested at Coquelles, near Calais in May 2000 when police discovered 117kg of cocaine in a load he had picked up in Holland, Logan denied smuggling but was found guilty and sentenced to seven years' imprisonment and fined £5.8m.
This was later reduced to £5,000, which was then paid by his family.
Logan's wife, Isobel, has complained to the Foreign Office about the appalling conditions her husband was subjected to in the notorious rat-infested Maison d'Arret prison in Douai, northern France.
She says she has received no help from either the Foreign Office or the British Consulate.
The family also decided to give up its appeal against the harsh sentence because of the slow pace of the judicial system in France.
Now Logan will appear before a parole board hearing on 3 July. and if I he satisfies the conditions he will be free to return to England.
His wife says: "He's eligible for conditional release. We are delighted; we just hope it goes alright. We want to get him home."
The family's solicitor, John Macadam. says he is confident Logan will be released. "It seems to be a route which has worked for other truck drivers in the past. Let us hope so for the family."
• Blue Ribbon campaign founder Emma Vasey has welcomed an article in the latest edition of the Road Haulage Association's member magazine Roadway, highlighting her campaign to free jailed British truckers abroad.
The move comes after she accused the RHA last month of hijacking the appeal for its own publicity when it ran an article on the campaign, which made no mention of its origins or her husband, John, currently languishing in a French jail awaiting trial (CM12-18 June.)
Vasey says: "It's absolutely wonderful that they are showing their support and have mentioned John's case.
"This is all I wanted in the first place. However, I am disappointed that no-one from the RHA rang to apologise about the misunderstanding," she says.