Driver fights late extradition
3rd July 2003
Page 5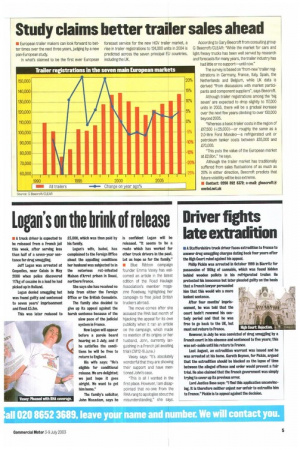 Page 5, 3rd July 2003 —
Driver fights late extradition
Close
• A Staffordshire truck driver faces extradition to France to answer drug smuggling charges dating back four years after the High Court ruled against his appeal.
Philip Pickin was arrested In October 1999 in Biarritz for possession of 180kg of cannabis, which was found hidden behind wooden pallets in his refrigerated trailer. He protested his innocence but later pleaded guilty on the basis that a French lawyer persuaded him that this would win a more lenient sentence.
After four months' imprisonment, he was told that the court hadn't renewed his custody period and that he was free to go back to the UK, but must not return to France.
However, in July he was convicted of drug smuggling by a French court in his absence and sentenced to five years; this was set-aside until his return to France.
Last August, an extradition warrant was issued and he was arrested at his home. Gareth Beynon, for Pickin, argued that the extradition should be blocked as the lapse of time between the alleged offence and order would prevent a fair trial. He also claimed that the French government was simply trying to cover up its previous error.
Lord Justice Rose says: "I find this application unconvincing. It is therefore neither unjust nor unfair to extradite him to France." Pickin is to appeal against the decision.