Grocer turned down by Bell
3rd July 2003
Page 21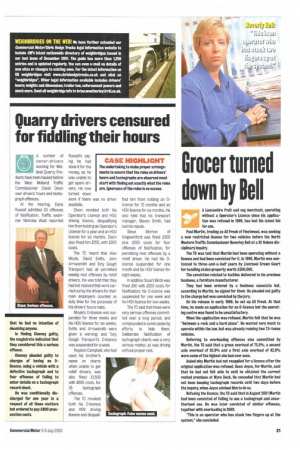 Page 21, 3rd July 2003 —
Grocer turned down by Bell
Close
A Lancashire fruit and veg merchant, operating without a Operator's Licence since his application was refused in 1999, has lost his latest bid for one.
Paul Martin, trading as All Fresh of Fleetwood, was seeking a new restricted licence for two vehicles before the North Western Traffic Commissioner Beverley Bell at a St Helens disciplinary inquiry.
The TC was told that Martin had been operating without a licence and had been convicted for it. In 1996, Martin was sentenced to three-arid-a-half years by Liverpool Crown Court for handling stolen property worth £300,000.
The conviction related to textiles delivered to his previous business, a furniture manufacturer.
They had been ordered by a business associate but, according to Martin, he signed for them. He pleaded not guilty to the charge but was convicted by the jury.
On his release in early 1999, he set up All Fresh. At that time, he made an application for an 0-licence but the operating centre was found to be unsatisfactory.
When the application was refused, Martin felt that he was "between a rock and a hard place". He wanted very much to operate within the law, but was already running two 7.5-tonne vehicles.
Referring to overloading offences also committed by Martin, the TC said that a gross overload of 75.5%, a second axle overload of 82.9% and a first axle overload of 42.6% were some of the highest she had ever seen.
Asked why Martin had not reapplied for a licence after the original application was refused, Sean Joyce, for Martin, said that he had not felt able to until he obtained the current rented premises at Wyre Dock. He conceded that Martin had not been keeping tachograph records until two days before the inquiry, when Joyce advised him to do so.
Refusing the licence, the TO said that in August 2001 Martin had been convicted of failing to use a tachograph and unauthorised use. He was later convicted of similar offences, together with overloading in 2002.
"This is an operator who has stuck two fingers up at the system," she concluded.