Fording the production gaps
3rd July 2003
Page 16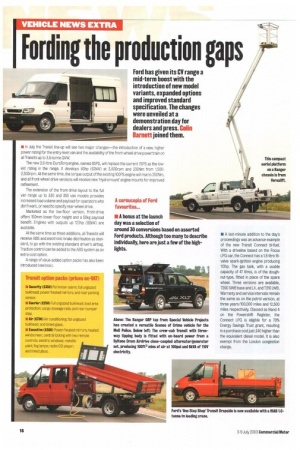 Page 16, 3rd July 2003 —
Fording the production gaps
Close
Ford has given its CV range a mid-term boost with the introduction of new model variants, expanded options and improved standard specification. The changes were unveiled at a demonstration day for dealers and press. Colin Bank joined them.
a In July the Transit ine-up will see two reAjOr changes—the introduction of a new, higher power rating for the entry-level van and the availability of the front-wheel drive powertrain on all Transits up to 3.5-tonne GVW.
The new 2.0-litre DuraTorq engine, named 85PS, will replace the current 75PS as the lowest rating in the range. It develops 83hp (62kW) at 3,800rpm and 230Nm from 1,5002,50Orpm. At the same time, the torque output of the existing 100PS engine will rise to 250Nm, and all front-wheel drive versions will receive new 'Hydromount' engine mounts for improved refinement.
The extension of the front-drive layout to the full van range up to 330 and 350 van models provides increased load volume and payload for operators who don't want, or need to specify rear-wheel drive.
Marketed as the low-floor version, front-drive offers 150mm lower floor height and a 50kg payload benefit. Engines with outputs up 123hp (92kW) are available.
At the same time as these additions, all Transits will receive ABS and electronic brake distribution as standard, to go with the existing standard driver's airbag. Traction control can be added to the ABS system as an extra-cost option.
A range of value-added option packs has also been introduced (see box).
• A last-minute addition to the day's proceedings was an advance example of the new Transit Connect bi-fuel. With a driveline based on the Focus LPG car, the Connect has a 1.8-litre 16valve spark-ignition engine producing 113hp. The gas tank, with a usable capacity of 47 litres, is of the doughnut-type, fitted in place of the spare wheel. Three versions are available, T200 SWB base and LX, and T210 LWB. Warranty and service intervals remain the same as on the petrol version, at three years/100,000 miles and 12,500 miles respectively. Classed as Band 4 on the Powershift Register, the Connect LPG is eligible for a 70% Energy Savings Trust grant, resulting in a purchase costjust £40 higher than the equivalent diesel model. It is also exempt from the London congestion charge.