The new land of
3rd July 2003
Page 14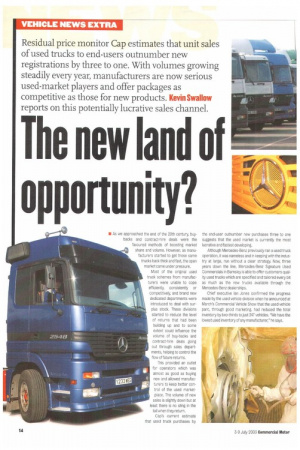 Page 15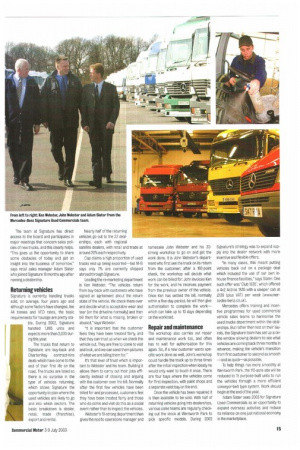 Page 14, 3rd July 2003 —
The new land of
Close
opportunity? Residual price monitor Cap estimates that unit sales of used trucks to end-users outnumber new registrations by three to one. With volumes growing steadily every year, manufacturers are now serious used-market players and offer packages as competitive as those for new products. Kevin Swallow reports on this potentially lucrative sales channel.
IN As we approached the end of the 20th century, buybacks and contract-hire deals were the favoured methods of boosting market share and volume. However, as manufacturers started to get those same trucks back thick and fast, the open market came under pressure. Most of the original used truck schemes from manufacturers were unable to cope efficiently, consistently or competitively, and brand new dedicated departments were introduced to deal with surplus stock. These divisions started to reduce the level of returns that had been building up and to some extent could influence the volume of buy-backs and contract-hire deals going out through sales departments, helping to control the flow of future returns. This provided an outlet for operators which was almost as good as buying new and allowed manufacturers to keep better control of the used marketplace. The volume of new sales is slightly down but at least there is no sting in the tail when they return. Cap's current estimate that used truck purchases by
the end-user outnumber new purchases three to one suggests that the used market is currently the most lucrative and fastest developing.
Although Mercedes-Benz previously ran a used truck operation, it was nameless and in keeping with the industry at large, run without a clear strategy Now, three years down the line, Mercedes-Benz Signature Used Commercials in Barnsley is able to offer customers quality used trucks which are specified and tailored every bit as much as the new trucks available through the Mercedes-Benz dealerships.
Chief executive Ian Jones confirmed the progress made by the used vehicle division when he announced at March's Commercial Vehicle Show that the used vehicle parc, through good marketing, had reduced the total inventory by two-thirds to just 247 vehicles. "We have the lowest used inventory of any manufacturer," he says. The team at Signature has direct access to the board and participates in major meetings that concern sales policies of new trucks, and this clearly helps. "This gives us the opportunity to share some obstacles of today and get an insight into the business of tomorrow" says retail sales manager Adam Slater who joined Signature 18 months ago after running a dealership.
Returning vehicles
Signature is currently handling trucks sold, on average, four years ago and although some factors have changed, like 44 tonnes and VED rates, the basic requirements for haulage are pretty stable. During 2002, Signature handled 1,885 units and expects more than 2,000 during this year.
The trucks that return to Signature are buy-back and CharterWay contract-hire deals which have come to the end of their first life on the road. The trucks are listed so there is no surprise in the type of vehicles returning, which allows Signature the opportunity to plan where the used vehicles are likely to go and into which sectors. The basic breakdown is dealer, retail, trade (franchise), export and rental. Nearly half of the returning vehicles go out to the 23 dealerships, each with regional satellite dealers, with retail and trade at around 20% each respectively.
Cap claims a high proportion of used trucks end up being exported—but M-B says only 7% are currently shipped abroad through Signature.
Leading the re-marketing department is Ken Webster. The vehicles return from buy-back with customers who have signed an agreement about the return state of the vehicle. We check them over and decide what is acceptable wear and tear [on the driveline normally] and then bill them for what is missing, broken or abused," says Webster.
"It is important that the customer feels they have been treated fairly, and that they can trust us when we check the vehicle out. They are free to come to visit and look, and we can send them pictures of what we are billing them for."
It's that level of trust which is important to Webster and his team. Building it allows them to carry out their jobs efficiently instead of chasing and arguing with the customer over the bill. Normally after the first few vehicles have been billed for and processed, customers feel they have been treated fairly and those who do come and visit do this as a social event rather than to inspect the vehicles.
Webster's 19-strong department then gives the nod to operations manager and namesake John Webster and his 30strong workshop to go on and get the work done. It is John Webster's department who first see the truck on its return from the customer; after a 160-point check, the workshop will decide what work can be billed for. John invoices Ken for the work, and he receives payment from the previous owner of the vehicle. Once Ken has settled the bill, normally within a five-day period, he will then give authorisation to complete the work— which can take up to 10 days depending on the workload.
Repair and maintenance
The workshop also carries out repair and maintenance work too, and often has to wait for authorisation for this again. So, if a new customer wants specific work done as well, John's workshop could handle the truck up to three times after the initial inspection when ideally he would only want to touch it once. There are four bays where the vehicles come for first inspection, with paint shops and a separate valet bay on the end.
Once the vehicle has been repaired it is then available to be sold. With half of returning vehicles going into dealerships, various sales teams are regularly checking Out the stock at Wentworth Park to pick specific models. During 2002 Signature's strategy was to expand supply into the dealer network with more inventive and flexible offers.
'in many cases, this meant putting vehicles back out on a package deal which included the use of our own inhouse finance facilities," says Slater. One such offer was 'Club 1835', which offered a 4x2 Actros 1835 with a sleeper cab at £139 (plus VAT) per week (wwwmercedes-benz.co.uk).
Mercedes offers training and incentive programmes for used commercial vehicle sales teams to harmonise the used trucks department within the dealerships. But rather then rest on their laurels, the Signature team has set up a online window allowing dealers to see what vehicles are coming back three months in advance, making the vehicle's transition from first customer to second as smooth —and as quick—as possible.
To help things run more smoothly at Wentworth Park, the 110-acre site will be reduced to 15 purpose-built units to run the vehicles through a more efficient conveyor-belt type system. Work should begin at the end of the year.
Adam Slater sees 2003 for Signature Used Commercials as an opportunity to expand overseas activities and reduce its reliance on one just national economy in the marketplace.