Cutting speed key to safety
3rd July 2003
Page 11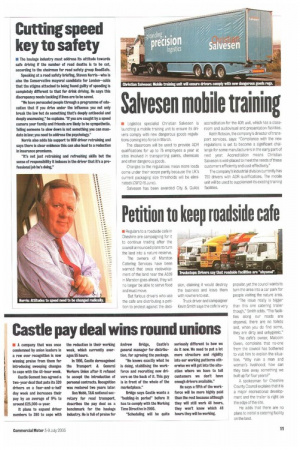 Page 11, 3rd July 2003 —
Cutting speed key to safety
Close
• The haulage industry must address its attitude towards safe driving if the number of road deaths is to be cut, according to the chairman for road safety group RoadSafe.
Speaking at a road safety briefing, Steven Norris—who is also the Conservative mayoral candidate for London—adds that the stigma attached to being found guilty of speeding is completely different to that for drink driving. He says this discrepancy needs tackling if lives are to be saved.
"We have persuaded people through a programme of education that if you drive under the influence you not only break the law but do something that's deeply antisocial and deeply unamusing," he explains. "If you are caught by a speed camera your family and friends are likely to be sympathetic. Telling someone to slow down is not something you can mandate in law; you need to address the psychology."
Norris also adds his support to HGV driver retraining and says there is clear evidence this can also lead to a reduction in insurance premiums.
"It's not just retraining and refreshing skills but the sense of responsibility it induces in the driver that it's a professional job he's doing."