Castle pay deal wins round unions
3rd July 2003
Page 11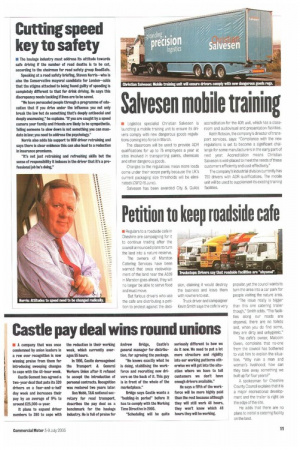 Page 11, 3rd July 2003 —
Castle pay deal wins round unions
Close
: A company that was once condemned by union leaders in a row over recognition is now winning praise from them for introducing sweeping changes to cope with the 48-hour week.
Castle Cement has agreed a two-year deal that puts its 320 drivers on a four-and-a-half day week and increases their pay by an average of 9% to around £25,000-a-year.
It plans to expand driver numbers to 390 to cope with the reduction in their working week, which currently averages 55 hours.
In 1995, Castle derecognised the Transport & General Workers Union after it refused to accept the introduction of personal contracts. Recognition was restored two years later.
Ron Webb, T&G national secretary for road transport. describes the pay deal as a benchmark for the haulage kidustry. He is full of praise for Andrew Bridge, Castle's
general manager for distribution, for agreeing the package.
"He knows exactly what he is doing, stabilising the workforce and recruiting new drivers on the back of it. This guy is in front of the whole of the marketplace."
Bridge says Castle wants a "bedding-in period" before it has to comply with the Working Time Directive in 2005.
"Scheduling will be quite seriously different to how we do it now. We need to put a lot more structure and rigidity into our working patterns otherwise we will get into the situation where we have to tell customers we don't have enough drivers available."
He says a fifth of the workforce will be more highly paid than the rest because although they will still work 48 hours, they won't know which 48 hours they will be working.