FTA welcome ferry inquiry
3rd July 1982
Page 7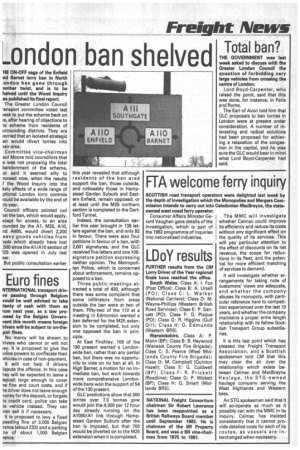 Page 7, 3rd July 1982 —
FTA welcome ferry inquiry
Close
SCOTTISH road transpon operators were delighted last week by the depth of investigation which the Monopolies and Mergers Commission intends to carry out into Caledonian MacBrayne, the stateowned west coast ferry operator.
Consumer Affairs Minister Gerard Vaughan gave details of the investigation, which is part of the 1982 programme of inquiries into nationalised industries. The MMC will investigate whether Calmac could improve its efficiency and reduce its costs without any significant effect on the quality of its services. This will pay particular attention to the effect of discounts on its net revenue, the scope for reductions in its fleet, and the potential for more efficient matching of services to demand.
It will investigate whether arrangements for taking note of customers' views are adequate, and whether the company abuses its monopoly, with particular reference here to competition experienced over the last 10 years, and whether the company maintains a proper arms length relationship with its fellow Scottish Transport Group subsidiaries.
It is this last point which has pleased the Freight Transport Association, and a Scottish spokesman told CM that this may clear the air over the relationship which exists between Calmac and MacBrayne Haulage, the STG-owned haulage company serving the West Highlands and Western Isles.
An STG spokesman said that it will co-operate as much as it possibly can with the MMC in its inquiry. Calmac has insisted consistently that it cannot provide detailed costs for each of its routes, as vessels are interchanged when necessary.