Haulier's permit threat
3rd July 1982
Page 3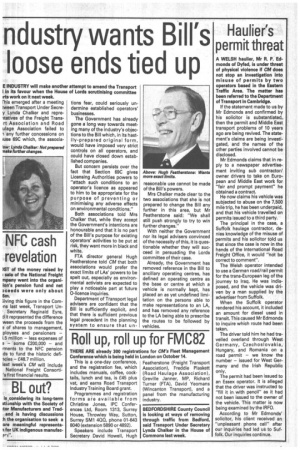 Page 3, 3rd July 1982 —
Haulier's permit threat
Close
A WELSH haulier, Mr R. P. Edmonds of Dyfed, is under threat of physical violence if CM does not stop an investigation into misuse of permits by two operators based in the Eastern Traffic Area. The matter has been referred to the Department of Transport in Cambridge.
If the statement made to us by Mr Edmonds and confirmed by his solicitor is substantiated, then the permit and Middle East transport problems of 10 years ago are being revived. The statement's claims are being investigated, and the names of the other parties involved cannot be disclosed.
Mr Edmonds claims that in reply to a newspaper advertisement inviting sub contractor/ owner drivers to take on European and Middle East work for "fair and prompt payment" he obtained a contract.
He now claims his vehicle was subjected to abuse on the 7,500 mile trip, he has been underpaid, and that his vehicle travelled on permits issued to a third party.
The principal in the case, a Suffolk haulage contractor, denies knowledge of the misuse of permits and his solicitor told us that since the case is now in the hands of the International Road Freight Office, it would "not be correct to comment".
The Welsh operator intended to use a German road/rail permit for the trans-European leg of the journey to Iraq. He was indisposed, and the vehicle was driven by a man supplied by the advertiser from Suffolk.
When the Suffolk operator rendered his account, it included an amount for diesel used in transit. This caused Mr Edmonds to inquire which route had been taken.
The driver told him he had travelled overland through West Germany, Czechoslovakia, Hungary, and Romania on a road permit — we know the number — issued for West Germany and the Irish Republic only.
The permit had been issued to an Essex operator. It is alleged that the driver was instructed to "fill it in with pencil" as it had not been issued to the owner of the vehicle. This matter is now being examined by the IRFO.
According to Mr Edmonds' solicitor, his client received an "unpleasant phone call" after our inquiries had led us to Suffolk. Our inquiries continue.