Transport expertise goes unremarked
3rd July 1982
Page 15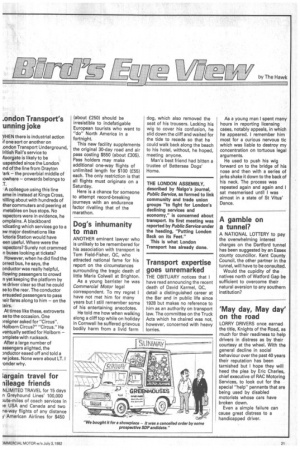 Page 15, 3rd July 1982 —
Transport expertise goes unremarked
Close
Keywords :
Bar Of England And Wales
,
Common Law
,
Law In The United Kingdom
,
Queen's Counsel
,
Tortuous
,
Vitus
,
Transport Law
,
Humanities
,
1st Millennium
,
Christianity
,
Law / Crime
THE OBITUARY notices that I have read announcing the recent death of David Karmel, QC, detail a distinguished career at the Bar and in public life since 1928 but makes no reference to him as an authority on transport law. The committee on the Truck Acts which he chaired was not, however, concerned with heavy lorries, As a young man I spent many hours in reporting licensing cases, notably appeals, in which he appeared. I remember him most for a curious nervous tic which was liable to destroy my concentration on tortuous legal arguments.
He used to push his wig forward on to the bridge of his nose and then with a series of jerks shake it down to the back of his neck. The process was repeated again and again and I sat mesmerised until I was almost in a state of St Vitus' Dance.