.ondon Transport's unning joke
3rd July 1982
Page 15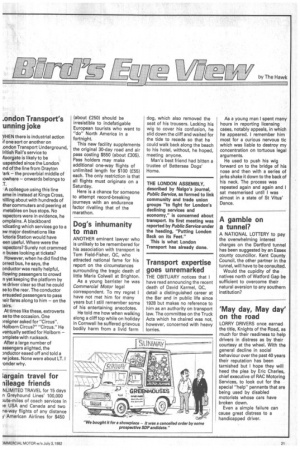 Page 15, 3rd July 1982 —
.ondon Transport's unning joke
Close
yHEN there is industrial action if one sort or another on ondon Transport Underground, Iritish Rail's service to Aoorgate is likely to be uspended since the London nd of the line from Drayton 'ark — the proverbial middle of lowhere — onwards belongs to T.
A colleague using this line ame in instead at Kings Cross, -lining about with hundreds of ther commuters and peering at metables on bus stops. No ispectors were in evidence, he omplains. A blackboard Klicating which services go to a )w major destinations like 'ictoria Station would have een useful. Where were the Ispectors? Surely not crammed n buses looking at tickets? However, when he did find the orrect bus, he says, the onductor was really helpful, llowing passengers to crowd n yet keeping the platform by te driver clear so that he could ee to the rear. The conductor ersuaded passengers to pass ieir fares along to him — on the lairs.
At times like these, extroverts se to the occasion. One areigner asked for "Circus". Holborn Circus?" "Circus." He ventually settled for Holborn — )mplete with rucksack.
After a large number of assengers alighted, the )nductor eased off and told a iw jokes. None were about LT. I onder why.