Anchorpac at IWM
3rd July 1982
Page 14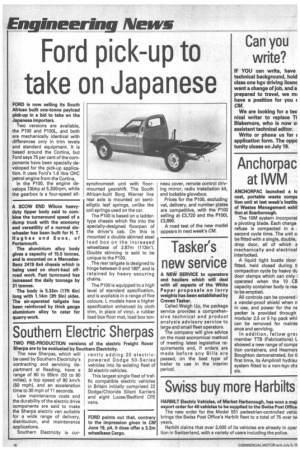 Page 14, 3rd July 1982 —
Anchorpac at IWM
Close
ANCHORPAC launched a lc cost, portable waste comp tion unit at last week's lnstitu of Wastes Management exhil tion at Scarborough.
The 10M system incorporat a pivoting blade. Each charge refuse is compacted in a second cycle time. The unit befitted with a single, double, drop door, all of which a mechanically and electrical interlocked.
A liquid tight bustle door fitted, held closed during tl compaction cycle by heavy du door clamps which can only I operated when the 10 CB capacity container body is real to be emptied.
All controls can be covered I a vandal-proof shield when n in use, and power for the nE packer is provided through modular 2.5 or 5 hp pack whii can be removed for mainte ance and servicing.
In addition, fellow grot member TTB (Fabrications) L showed a new range of compa tion containers, and Hearncre Boughton demonstrated, for ti first time, its Ampliroll hydrau system fitted to a non-hgv cha sis.