First British Servicing Unit for Oil Wells ?
3rd February 1950
Page 43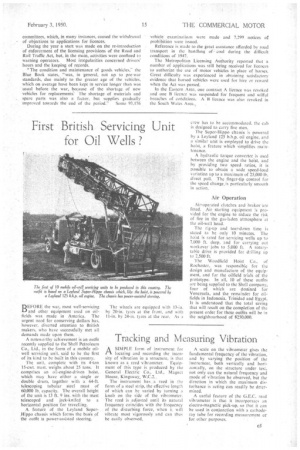 Page 43, 3rd February 1950 —
First British Servicing Unit for Oil Wells ?
Close
BEFORE the war, most well-servicing and other equipment used on oilfields was made in America. The urgent need for conserving dollars has, however, diverted attention to British makers, who have successfully met all demands made upon them.
A noteworthy achievement is an outfit recently supplied to the ShellPetroleum Co., Ltd., in the form of a mobile oilwell servicing unit, said to be the first of its kind to be built in this country.
The unit, complete with its 4-ton 15-cwt. mast, weighs about 25 tons. It comprises an oil-engine-driven hoist, which may have either a single or double drum, together with a 64-ft. telescoping tubular steel mast of 60,000 lb. capacity. The overall height of the unit is 13 ft. 9 ins, with the mast telescoped and jack-knifed to a horizontal position for travelling. A feature of the Leyland SuperHippo chassis which forms the basis of the outfit is power-assisted steering. The wheels are equipped with 13-in. by 20-in. tyres at the front, and with 11-in. by 24-in. tyres at the rear. As a crew has to be accommodated, the cab is designed to carry five men.
The Super-Hippo chassis is powered by a Leyland 125 b.h.p. oil engine, and a similar unit is employed to drive the hoist, a feature which simplifies maintenance.
A hydraulic torque converter is used between the engine and the hoist, and by providing two speed ratios, it is possible to obtain a wide speed-load variation up to a maximum of 25,000 lb. direct pull. . The finger-tip control for the speed change, is particularly smooth in action.
Air Operation
Air-operated clutches and brakes are fitted. Air starting equipment is provided for the engine to reduce the risk of fire in the gas-laden atmosphere at the oil-well head.
The rig-up and tear-down time is stated to be only 10 minutes. The hoist is rated for servicing wells up-to 7,000 ft. deep, and for carrying out ,,vorkover jobs to 5,000 ft. A rotarytable drive is provided for drilling up to 2,500 ft The Woodfield Hoist Co., of Rochester, was responsible for the design and manufacture of the equipment, and for the oilfield trials of the prototype. In all, 10 of these outfits are being supplied to the Shell company, four of which are destined for Venezuela, and the remainder for oilfields in Indonesia, Trinidad and Egypt. It is understood that the total saving that will result on the completion of the present order for these outfits will be in the neighbourhood of $250,000.