Fixed-cam Brakes Preferred for Heavy Vehicles
3rd February 1950
Page 33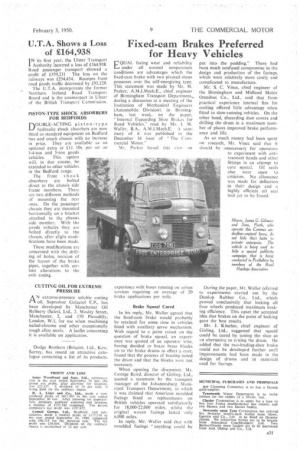 Page 33, 3rd February 1950 —
Fixed-cam Brakes Preferred for Heavy Vehicles
Close
EQUAL facing wear arid reliability
under all normal temperature conditions are advantages which the fixed-cam brake with two pivoted shoes possesses over the self-energizing type. This statement was made by Mr. H. Parker, A.M.I.Mech.E., chief engineer of Birmingham Transport Department,, during a discussion at a meeting of the Institution of Mechanical Engineers (Automobile Division). in Birmingham, . last week, on the paper, " Internal Expanding Shoe Brakes for Road Vehicles." read by Mr. 1. M. Waller, B.A., A.M.I.Mech.E. A summary of it was published in the December 16 issue of The Commercial Motor.
Mr. Parker based this view on experience with buses running on urban services requiring an average of 20 brake applications per mile.
Brake Squeal Cured
In his reply, Mr. Waller agreed that the fixed-cam brake would probably he retained for some time in vehicles fitted with auxiliary servo mechanism. With regard to a point raised on the question of brake squeal, an experience was quoted of an operator who, having decided to braze brass blocks on to the brake drums to effect a cure, found that the process of brazing tuned the drum and that the blocks were not necessary.
When opening the discussion, Mr. George Baird, director of Girling. Ltd., quoted a statement by the transport manager of the Johannesburg Municipal Transport Department, in which it was claimed that American moulded facings fitted as replacements on British vehicles operated satisfactorily for 18,000-22,000 miles, whilst the original woven facings lasted only 6,000 miles.
In reply, Mr. Waller said that with moulded facings 'anything could bc put into the pudding." There had been much confused compromise in the design and production of the facings, which were relatively more costly and complicated to manufacture.
Mr. S. C. Vince, chief engineer of the Birmingham and Midland Motor Omnibus Co., Ltd., said that from practical experience internal fins for cooling offered little advantage when fitted to slow-running vehicles. On the other hand, discarding dust covers and drilling the drum in a maximum number of places improved brake performance and life.
As so much money had been spent on research, Mr. Vince said that it should be unnecessary for operators to experiment with antiresonant bands and other fittings in an attempt to cure squeal. Oil seals also were open to criticism. No allowance was made for deflection in their design and a highly efficient oil seal had yet to be found.
During the paper, Mr. Waller referred to experiments carried out by the Dunlop Rubber Co., Ltd., which proved conclusively that locking all four wheels produced maximum braking efficiency. This upset the accepted idea that brakes on the point of locking gave the best results.
Mr. J. Kinchin, chief engineer of Girling, Ltd., suggested that squeal could be cured by tuning the shoe as an alternative to tuning the drum. He added that the two-leading-shoe brake could not be developed further until improvements had been made in the design of drums and in materials used for facings.