The Fight
3rd February 1950
Page 29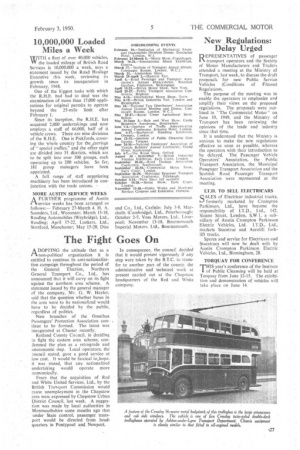 Page 29, 3rd February 1950 —
The Fight
Close
Keywords :
Geography Of The United Kingdom
,
Geography Of Wales
,
Government Of Wales
,
Counties Of Wales
,
Principal Areas Of Wales
,
Monmouth, Wales
,
Gwent
,
Monmouth
,
Newport
,
Chepstow
,
Nationalization
,
Pontypool
Goes On
ADOPTING the attitude that as a non-political organization it is entitled to continue its anti-nationalization campaign throughout the period of the General Election, Northern General Transport Co., Ltd., has announced that it will carry on its fight against the northern area scheme. A statement issued by the general manager of the company, Mr. G. W. Hayter, said that the question whether buses in the area were to be nationalized would have to be decided by the public, regardless of politics.
New branches of the Omnibus Passengers' Protection Association continue to be formed. The latest was inaugurated at Chester recently.
Rutland County Coilncil. in deciding to fight the eastern area scheme, condemned the plan as a retrograde and oneconomic step. Local operators, the 2,ouncil stated, gave a good service at [ow cost. It would be farcical to,hope. it was stated, that any nationalized undertaking would operate more economically.
Fears that the acquisition of Red and White United Services, Ltd., by the British Transport Commission would cause unemployment in the Chepstow area were expressed by Chepstow Urban District Council, last week, A suggestion was made by local authorities in Monmouthshire some months ago that under State control, passenger transport would be directed from headquarters in Pontypool and Newport.
In consequence, the council decided that it would protest vigorously if any step were taken by the B.T.C. to transfer to another part of the county, the administrative and technical work at present carried out at the Chepstow headquarters of the Red and White company.