New. ,Regulations: Delay Urged
3rd February 1950
Page 29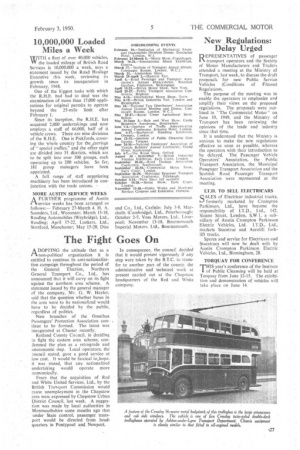 Page 29, 3rd February 1950 —
New. ,Regulations: Delay Urged
Close
REPRESENTATIVES of passenger transport operators and the Society of Motor Manufacturers and Traders attended a meeting at the Ministry of Transport, last week, to discuss the draft proposals for new Public Service Vehicles (Conditions of Fitness) Regulations.
The purpose of the meeting was to enable the operators to emphasize and amplify their views on the proposed regulations. The proposals were outlined in "The Commercial Motor on June 10, 1949, and the Ministry of Transport has been reviewing the opinions of the trade and industry since that time.
It is understood that the Ministry is anxious to make the new regulations effective as soon as possible, whereas the operators wish their introduction to be delayed. The Passenger Vehicle Operators' Association. the Public Transport Association, the Municipal Passenger Transport Association a nd the Scottish Road Passenger Transport Association were represented at the meeting.