Export Business Must Be Maintained •
3rd February 1940
Page 66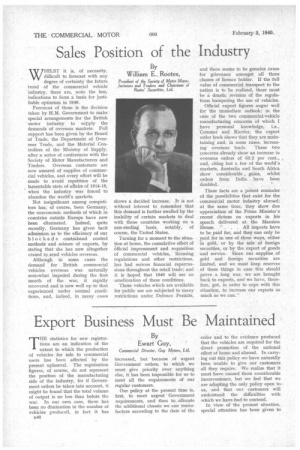 Page 67
Page 66, 3rd February 1940 —
Export Business Must Be Maintained •
Close
By Ewart Guy,
Commercial Director, Guy Motors, Ltd.
THE statistics for new registrations are an indication of the extent to which the production of vehicles for sale to commercial users has been affected by the present upheaval. The registration figures, of course, do not represent the position of the manufacturing side of the industry, for if Government orders be taken into account, it might be found that the total volume of output is no less than before the war. In our own case, there has been no diminution in the number of vehicles produced, in fact it has
increased, but because of urgent Government orders, to which we must give priority over anything else, it has been impossible for us to meet all the requirements of our regular customers.
Our policy at the present time is, first, to meet urgent Government requirements, and then to allocate the additional chassis we can manufacture according to the date of the
order and to the evidence produced that the vehicles are required for the direct promotion of the national effort at home and abroad. In carrying out this policy we have naturally been unable to give our customers all they require. We realize that it must have caused them considerable inconvenience, but we feel that we are adopting the only policy open to us, and that our customers will understand the difficulties with which we have had to contend.
In view of the present situation, special attention has been given to
the spare parts and service department. It is under the control of Mr. J. L. Owen, M.I.M.T., and the assistant manager, Mr. S. H. Gough, M.I.M.T" who have been with us for 21 years and 18 years respectively. They have, therefore, an intimate knowledge of Guy vehicles, even .those manufactured 16 to 18 years ago, of which there are still several in use: Mr. Owen is assisted by our outside representatives, who keep in dose touch with Guy users. Our London service depot (where Mr. L. V. Medlam, who has been 22 years with the company, is in charge) is also fully equipped to deal with any kind of repair and carries a comprehensive stock of spare parts. In addition, the many Guy agents throughout the country have the full support and co-operation of Mr. Owen and his staff.
Whilst the vital importance of road transport in the national effort must not be overlooked and everything should be done to promote its efficiency, it appears to us that export business should be encouraged and assisted in every possible way to maintain the economic well being of the cousttry. Export business, if neglected will be quickly lost, and it may take years to get it back. To lose business is serious enough for any manufacturer, but it would be infinitely more serious for the nation if exports be not maintained. From a shipping point of view, the modern practice of shipping chassis partly' dismantled makes a substantial reduction in the amount of space required on board ship, in fact, it is surprising how so much value can be packed in so little space.
In recent years there has been a distinct increase in the use of trolleybuses overseas. The success of this type of public-service vehicle is largely due to the efforts of British manufacturers, and every effort should be made to secure all export orders for trolleybuses, as well as for petroland oil-engined vehicles. It is hoped that adequate supplies of the special materials used in their • construction will be available in order to maintain the high standard of quality so long associated with vehicles of British manufacture. Furthermore, when tenders are invited by transport undertakings
overseas, chassis manufacturers should have an assurance from the appropriate Government department that sufficient material has been allocated from the stocks under their Control, and that it will be available on a specified date, so that chassis manufacturers will be in a position to quote firm delivery dates in their, tenders. In nearly all cases this is an essential condition, -and unless it can be quoted the chance of obtaining the business is remote.
For the time being, and on account of the pressure of Government requirements, we have had to limit our production of commercial vehicles, apart from public-service vehicles, to a few standard types, such as the parcel delivery van, Wolf 2-3-tonner, Vixen 3-4-tonner, and the Otter 6-tonner, with either petrol or oil engines. These are all wellknown types which have been in procllrction for several years, and it may be that at the present time, when there is difficulty in obtaining new vehicles, our policy of building Guy vehicles for "Life and low running cost" is appreciated more than ever.