Points Made by Mr. Perkins
3rd February 1940
Page 65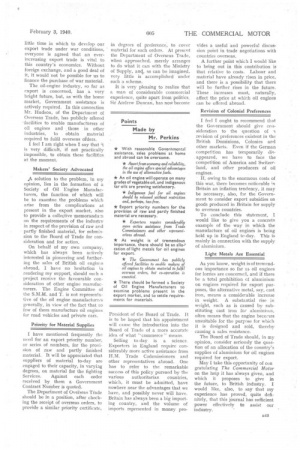 Page 65, 3rd February 1940 —
Points Made by Mr. Perkins
Close
* With reasonable Governmental assistance, sales problems' at home and abroad can be overcome.
* Apart from economy and reliability, the oil engine off ers special advantages in the use of alternative fuels.
* An oil engine will operate on many grades of vegetable oil, and indigenous tar oils are proving satisfactory.
* Indigenous fuel for oil engines should be released without restriction and, perhaps, tax-free.
* Export priority numbers for the provision of raw and partly finished material are necessary.
* Exporters require considerably more active assistance from Trade Commissioners and other representatives abroad.
* As weight is of tremendous importance, there should be an allo-• cation of light metals for oil engines for export.
* The Government has publicly offered facilities to enable makers of oil engines to obtain material to fulfil overseas orders, but co-operation is essential.
* There should be formed a Society of Oil Engine Manufacturers to examine problems present in the export market, and to settle requirements for materials.