Aggressive Export Policy Essential
3rd February 1940
Page 61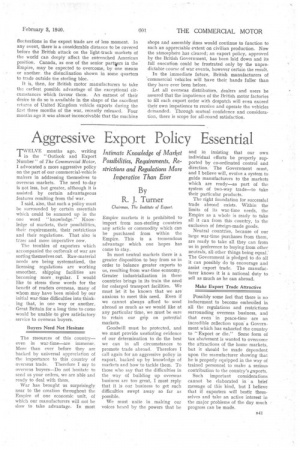 Page 61, 3rd February 1940 —
Aggressive Export Policy Essential
Close
Intimate Knowledge of Market Possibilities, Requirements, Restrictions and Regulations More Imperative Than Ever
By R. J. Turner
Chairman, The Institute of Export.
'TWELVE months ago, writing in the " Outlook and Export Number" of The Commercial Motor, I advocated a more aggressive policy on the part of our commercial-vehicle makers in addressing themselves to overseas markets. The need to-day is not less, but greater, although it is assisted by certain advantageous features resulting from the war.
I said, also, that such a policy must be surrounded by certain essentials which could be summed up in the one word "knowledge." Knowledge of markets, their possibilities, their requirements, their restrictions and their regulations. That also is timer and more imperative now.
The troubles of exporters which accompanied the outbreak of war are sorting themselves out. Raw-material needs are being systematized, the licensing regulations are working smoother, shipping facilities are becoming more regular. I would like to stress these words for the benefit of readers overseas, many of whom may have been misled by our initial war-time difficulties into thinking that, in one way or another, Great Britain for a long time to come would be unable -to give satisfactory service to overseas buyers.
Buyers Need Not Hesitate The resources of this country— even in war-time—are immense, More than ever before they are backed by universal appreciation of the importance to this country of overseas trade. Therefore I say to overseas buyers—Do not hesitate to send us your orders, we are able and ready to deal with them.
War has brought us surprisingly near to the creation throughout the Empire of one economic unit, of which our manufacturers will not be slow to take advantage. In most Empire markets it is prohibited to import from non-sterling countries any article or commodity which can be purchased from within the Empire. This is a tremendous advantage which one hopes has come to stay.
In most neutral markets there is a greater disposition to buy from us in order to balance greater exports to us, resulting from war-time economy. Greater industrialization in these countries brings in its train the need for enlarged transport facilities. We must let it be known that we are anxious to meet this need. Even if we cannot always afford to send abroad as much as we would like at any particular time, we must be sure to retain our grip on potential markets.
Goodwill must be protected, and we must provide unstinting evidence of our determination to do the best we can in all circumstances to promote trade abroad. Therefore I call again for an aggressive policy in export, backed up by knowledge of markets and how to tackle them. To those who say that the difficulties in the way of building up overseas business are too great, I must reply that it is our business to get such difficulties swept away so far as possible.
We must unite in making our voices heard by the powers that be and in insisting that our own individual efforts be properly supported by co-ordinated control and direction. The Government must, and I believe will, evolve a system to guide manufacturers to the markets which are ready—as part of the system of two-way trade—to take their particular products.
The right foundation for successful trade abroad exists. Within the limits of its war-time needs, the Empire as a whole is ready to take all it can from this country, to the exclusion of fcrreign-made goods.
Neutral countries, because of our large war-time purchases from them, are ready to take all they can from us in preference to buying from other neutrals, all other things being equal.' The Government is pledged to do all it can possibly do to encourage and assist export trade. The manufacturer knows it is a national duty to sell as much as he can abroad.
Make Export Trade Attractive Possibly some feel that there is no inducement to become embroiled in all the regulations and restrictions surrounding overseas business, and that even in peace-time are an incredible reflection upon' a Government which has exhorted the country to "Export or die." Some form of tax abatement is wanted to overcome the attractions of the home markets, but it should be made dependent upon the manufacturer showing that he is properly equipped in the way of trained personnel to make a serious contribution to the country's scports.
Such important considerations cannot be elaborated in a brief message of this kind, but I believe that if exporters will bestir themselves and take an active interest in the major problems of the day much progress can be made.