Passing Comments
3rd February 1940
Page 47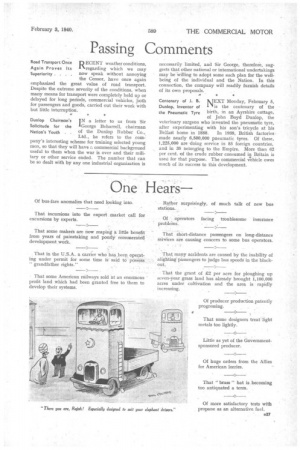 Page 47, 3rd February 1940 —
Passing Comments
Close
Road Transport Once no ECENT weather conditions, Again Proves Its l'regarding which we may Superiority. . . . now speak without annoying
the Censor, have once again emphasized the great value of road transport. Despite the extreme severity of the conditions, when many means for transport were completely held up or delayed for long periods, commercial vehicles, both for passengers and goods, carried out their work with but little interruption.
Dunlop Chairman's IN a letter to us from Sir Solicitude for the 'George Beharrell, chairman Nation's Youth of the Dunlop Rubber Co" Ltd" he refers to the corn; pany's interesting scheme for training selected young men, so that they will have a commercial background useful to them when the war is over and their military or other service ended. The number that can be so dealt with by any one industrial organization is
necessarily limited, and Sir George, therefore, suggests that other national or international undertakings may be -willing to adopt some such plan for the wellbeing of the individual and the Nation. In this connection, the company will readily furnish details of its own proposals.
Centenary of J. B. MEXT Monday, February 5, Dunlop, Inventor of I is the centenary of the the Pneumatic Tyre birth, in an Ayrshire cottage, of John Boyd Dunlop, the veterinary surgeon who invented the pneumatic tyre, after experimenting with his son's tricycle at his
Belfast home in 1888. In 1938, British factoriesmade nearly 6,500,000 pneumatic tyres. Of these, 1,225,000 are .doing service in 85 foreign countries, and in 35 belonging to the Empire. More than 62 per cent. ,of the crude rubber consumed ill. Britain is useii for that Purpose. The commercial vehicle owes much of its success to this development.