REDUCING FACTORY COSTS BY ORGANIZATION.
3rd February 1925
Page 10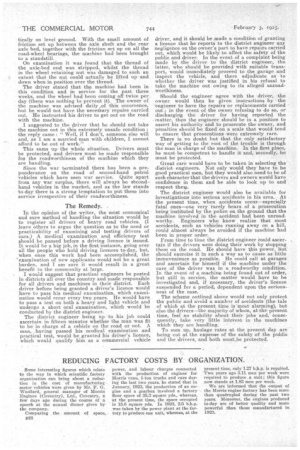 Page 10, 3rd February 1925 —
REDUCING FACTORY COSTS BY ORGANIZATION.
Close
. Some interesting figures which relate to the way in which scientific factory organization can bring about a reduction in the cost of manufacturing motor vehicles were given by Mr. F. G. Woollard, general manager of MorriS Engines (Coventry), Ltd., Coventry, a few days ago during the course Of a speech at the annual dinner given by the company.
Comparing the amount of space, 826
power, and labour charges connected with the production of engines for Morris vans, 1-ton trucks and cars during the last two years, he stated that in January, 1923,the production of an engine and a gearbox involved a factory floor space of 35.3 square yds., whereas, at the present time, the space occupied is 15.6 square yds. In 1923, 23 b.h.p. was taken by the power plant at the factory to produce one unit, whereas, at the
present time, only 1.27 b.h.p. is required. Two years ago 3.11 men per week were required to produce a unit ; this figure now stands at 1.83 men per week.
We are informed that the output of the Morris engine factory has been more than quadrupled during the past two years. Moreover, the engines produced to-day are of better quality and more powerful than those manufactured in 1923.