One Hears
3rd December 1943
Page 15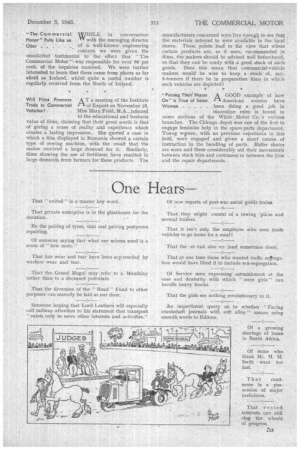 Page 15, 3rd December 1943 —
One Hears
Close
That " united" is a master key word.
That private enterprise is in the glasshouse for the duration.
Re the pairing of tyres, that real pairing postpones repairing.
Of someone saying that what our miners need is a sense of "hew more."
That fair wear and tear have been sup erseded by warfare wear and tear.
That the Grand Mogul may _refer to a Maudslay rather than to a deceased potentate.
That the diversion of the "Road "Fund to other purposes can scarcely be laid at our door.
Someone hoping that Lord Leathers will especially call railway attention to his statement that transport " exists only to serve other interests and activities." Of new reports of post-war aerial goods trains.
. That , they might consist of a towing 'plane and several trailers.
That it isn't only the employee who uses trade vehicles to go home for a meal! • • That the -er earl also err (and sometimes does).
That at one time those who wanted traffic setregation would have liked it to include sex-segregation.
Of Service men expressing astonishment at the ease and dexterity with which "mere girls" can handle heavy trucks.
That the girls see nothing revolutionary in it.
An impertinent query as to whether "Facing crankshaft journals with soft alloy" means. using smooth words to Editors.
Of a growing shortage of buses in South Africa.
Of some who think Mr. H. M. Swift went too fast.
That roadsense is a possession of major usefulness.
That vested interests can still clog the wheels of progress.