MacGregor pushes road and rail link
3rd April 1982
Page 9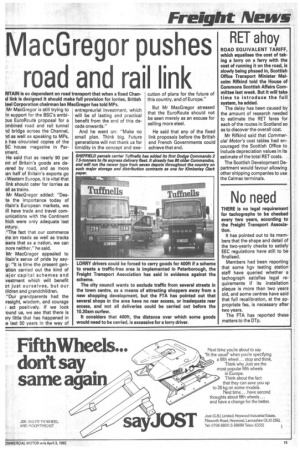 Page 9, 3rd April 1982 —
MacGregor pushes road and rail link
Close
RITAIN is so dependent on road transport that when a fixed Chanel link is designed it should make full provision for lorries, British Wei Corporation chairman Ian MacGregor has told MPs.
Mr MacGregor is still trying to in support for the BSC's ambious EuroRoute proposal for a )mbined road and rail tunnel id bridge across the Channel, Id as well as speaking to MPs, a has circulated copies of the SC house magazine in ParRment.
He said that as nearly 90 per ,nt of Britain's goods are derered by road, and as more Ian half of Britain's exports go I Western Europe, it is vital that link should cater for lorries as ell as trains.
Mr MacGregor added: "Desite the importance today of ritain's European markets, we ill have trade and travel cornlunications with the Continent 'hich were only adequate last mtury.
"The fact that our commerce ins on roads as well as tracks leans that as a nation, we can more neither," he said.
Mr MacGregor appealed to ritain's sense of pride by say g: "It is time the present genIlion carried out the kind of rajor capital schemes and vestment which will benefit ot just ourselves, but our, lildren and grandchildren.
"Our grandparents had the oresight, wisdom, and courage
act positively. If we look .ound us, we see that there is 3ry little that has happened in le last 50 years in the way of
entrepreurial investment, which will be of lasting and practical benefit from the end of this decade onwards."
And he went on: "Make no small plan. Think big. Future generations will not thank us for timidity in the concept and exe cution of plans for the future of this country, and of Europe."
But Mr MacGregor stressed that the EuroRoute should not be seen merely as an excuse for selling more steel.
He said that any of the fixed link proposals before the British and French Governments could achieve that end.