Licensed
3rd April 1982
Page 8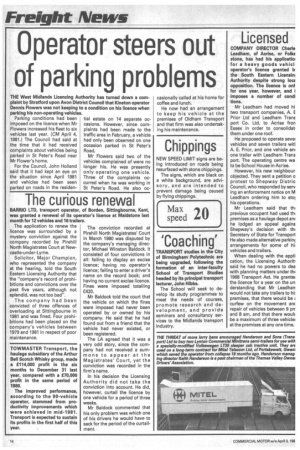 Page 8, 3rd April 1982 —
Licensed
Close
COMPANY DIRECTOR Cherie Leadham, of Acrise, nr Folke stone, has had his applicatioi for a heavy goods vehicl operator's licence granted b the South Eastern Licensin! Authority despite strong loca opposition. The licence is ont for one year, however, and i imposes a number of condi tions.
Mr Leadham had moved hi two transport companies, A. E Prior Ltd and Leadham Trans port Co. Ltd, to Acrise fron Essex in order to consolidat, them under one roof.
He proposed to operate sevei vehicles and seven trailers witl A. E. Prior, and one vehicle am one trailer with Leadham Trans port. The operating centre we to be School House in Acrise.
However, his new neighbour objected. They sent a petition a protest to Shepway Distric Council, who responded by serv ing an enforcement notice on M Leadham ordering him to stop his operations.
Mr Leadham said that tilt previous occupant had used thi premises as a haulage depot am he lodged an appeal agains Shepway's decision with th■ Secretary of State for Transport He also made alternative parkin arrangements for some of hi! vehicles and trailers.
When dealing with the appli cation, the Licensing Authoritl said he had no powers to dea with planning matters under thi 1968 Transport Act. He grante( the licence for a year on the un derstanding that Mr Leadhan would not take any trailers to hi; premises, that there would be curfew on the movement an repair of vehicles between 9 pa and 8 am, and that there woul( be a maximum of three vehicle; at the premises at any one time.