Good Ambassador for Britain
3rd April 1982
Page 50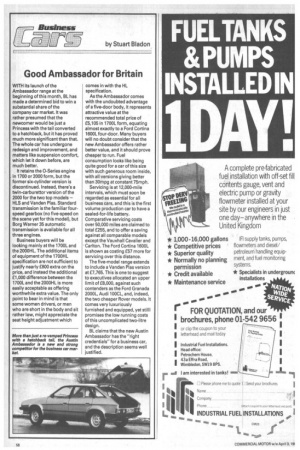 Page 50, 3rd April 1982 —
Good Ambassador for Britain
Close
WITH its launch of the Ambassador range at the beginning of this month, BL has made a determined bid to win a substantial share of the company car market. It was rather presumed that the newcomer would be just a Princess with the tail converted to a hatchback, but it has proved much more significant than that. The whole car has undergone redesign and improvement, and matters like suspension comfort, which let it down before, are much better.
It retains the 0-Series engine . in 1700 or 2000 form, but the former six-cylinder version is discontinued. Instead, there's a twin-carburettor version of the 2000 for the two top models — HLS and Vanden Plas. Standard transmission is the familiar fourspeed gearbox (no five-speed on the scene yet for this model), but Borg Warner 35 automatic transmission is available for all three engines.
Business buyers will be looking mainly at the 1700L and the 2000HL. The additional items of equipment of the 1700HL specification are not sufficient to justify nearly £800 extra on the price, and instead the additional £1,000 difference between the 1700L and the 2000HL is more easily acceptable as offering worthwhile extra value. The only point to bear in mind is that some women drivers, or men who are short in the body and sit rather low, might appreciate the seat height adjustment which comes in with the HL specification.
As the Ambassador comes with the undoubted advantage of a five-door body, it represents attractive value at the recommended total price of £5,105 in 1700L form, equating almost exactly to a Ford Cortina 1600L four-door. Many buyers will no doubt consider that the new Ambassador offers rather better value, and it should prove cheaper to run. Fuel consumption looks like being quite good for a car of this size with such generous room inside, with all versions giving better than 30mpg at constant 75mph.
Servicing is at 12,000-mile intervals, which must soon be regarded as essential for all business cars, and this is the first volume production car to have a sealed-for-life battery. Comparative servicing costs over 50,000 miles are claimed to total £255, and to offer a saving against all comparable models except the Vauxhall Cavalier and Carlton. The Ford Cortina 16001_ is shown as costing £57 more for servicing over this distance.
The five-model range extends to include a Vanden Plas version at £7,765. This is one to suggest to executives allocated an upper limit of £8,000, against such contenders as the Ford Granada 2000L, Audi 100CL, and, indeed, the two cheaper Rover models. It comes very luxuriously furnished and equipped, yet stilll promises the low running costs of this uncomplicated two-litre design.
BL claims that the new Austin Ambassador has the "right credentials" for a business car, and the description seems well justified.