Cab is for swearing in
3rd April 1982
Page 5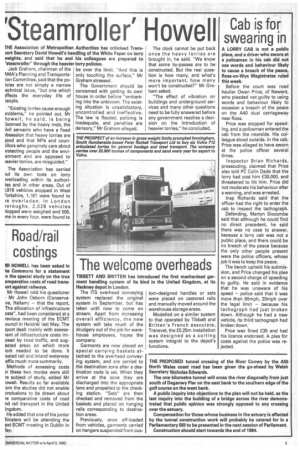 Page 5, 3rd April 1982 —
Cab is for swearing in
Close
A LORRY CAB is not a public place, and a driver who swore at a policeman in his cab did not use words and behaviour likely to cause a breach of the peace, Ross-on-Wye Magistrates ruled this week.
Before the court was road haulier Owen Price, of Newent, who pleaded not guilty to using words and behaviour likely to occasion a breach of the peace on the A40 dual carriageway near Ross.
Price was stopped for speeding, and a policeman entered the cab from the nearside. His colleague stood outside. In the cab, Price was alleged to have sworn at the police officer several times.
Inspector Brian Richards, prosecuting, claimed that Price also told PC Colin Dade that the lorry had cost him £30,000, and threatened to hit him. Price did not moderate his behaviour after a warning, and was arrested.
lnsp Richards said that the officer had the right to enter the cab to inspect the tachograph.
Defending, Martyn Slocombe said that although he could find no direct precedent, he said there was no case to answer, because a lorry cab was not a public place, and there could be no breach of the peace because the only other people present were the police officers, whose job it was to keep the peace.
The bench upheld his submission, and Price changed his plea on a second charge of speeding to guilty. He said in evidence that he was unaware of his speed — police said that it was more than 60mph, 20mph over the legal limit — because his tachograph had just broken down. Although he had a new vehicle, its third tachograph had broken down.
Price was fined 05 and had his licence endorsed. A plea for costs against the police was rejected.