Hefts ban
3rd April 1982
Page 4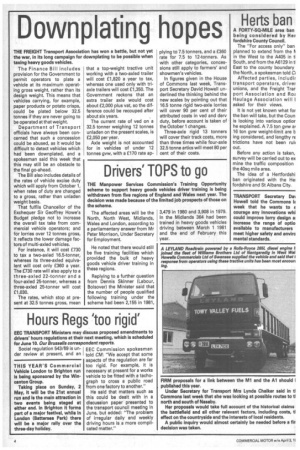 Page 4, 3rd April 1982 —
Hefts ban
Close
A FORTY-SQ-MILE area ban being considered by Het fordshire County Council.
The "For access only" ban planned to extend from the h in the West to the A405 in t South, and from the A6129 in t East to the county boundary the North, a spokesman told a
Affected parties, includir transport operators, driver unions, and the Freight Trar port Association and Rai Haulage Association will I asked for their views.
It is not yet known what for the ban will take, but the Coun is looking into various optior he explained. A 7.5 ton gvw a. 16 ton gvw weight-limit are ing considered, and lengthy rE trictions have not been rib out.
Before any action is taken, survey will be carried out to ex mine the traffic composition the 40sq mile area.
The idea of a Hertfordshi ban originated with the He fordsh ire and St Albans City.