The driving force from Japan
3rd April 1982
Page 23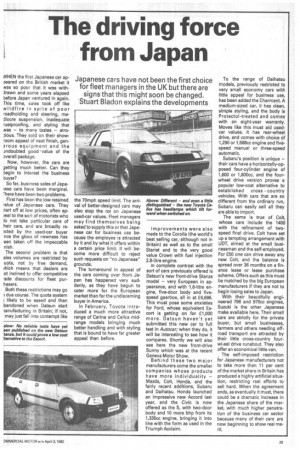 Page 23, 3rd April 1982 —
The driving force from Japan
Close
Keywords :
Transport
,
Economy Of Japan
,
Automotive Industry In Japan
,
Car Classifications
,
Transport Economics
,
Electric Vehicles
,
Economy Car
,
Compact Car
,
Subaru
,
Daihatsu
,
Front-wheel Drive
,
Honda
,
Business / Finance
Japanese cars have not been the first choice for fleet managers in the UK but there are signs that this might soon be changed. Stuart Bladon explains the developments
NHEN the first Japanese car appeared on the British market it was so poor that it was withdrawn and some years elapsed before Japan ventured in again. This time, sales took off like wildfire in spite of poor roadholding and steering, mediocre suspension, inadequate rustproofing, and styling that was — to many tastes — atro,lious. They sold on their show,00m appeal of neat finish, genarous equipment and the Jndoubted good *value of the pverall package.
Now, however, the cars are getting much better. Can they begin to interest the business buyer?
So far, business sales of Japalese cars have been marginal. 'here have been two problems.
First has been the low retained ralue of Japanese cars. They tart off at low prices, often apmai to the sort of motorists who lo not take particular care of heir cars, and are broadly reacted by the used-car buyer nce the gloss of newness has een taken off the impeccable nish.
The second problem is that ales volumes are restricted by uota, not by free demand, /Pilch means that dealers are ot inclined to offer competitive .ade discounts for fleet purhasers.
Both these restrictions may go 1 due course. The quota system ; likely to be eased and then bandoned when Datsun start ianufacturing in Britain; if not, may just fall into contempt like the 70mph speed limit. The arrival of better-designed cars may also stop the rot on Japanese used-car values. Fleet managers may find themselves being asked to supply this or that Japanese car for business use because the employee is attracted by it and by what it offers within a certain price limit. It will become more difficult to reject such requests on "no Japanese" grounds.
The turnaround in appeal of the cars coming over from Japan has happened very suddenly, as they have begun to cater more for the European market than for the undiscerning buyer in America.
In February, Toyota introduced a much more attractive range of Carina and Celica midrange models bringing much better handling and with styling that is bound to have far greater appeal than before. Improvements were also made to the Corolla (the world's best selling car, although not in Britain) as well as to the small Starlet and to the very good value Crown with fuel injection 2.8-litre engine.
In complete contrast with the sort of cars previously offered is Datsun's new front-drive Stanza model — very European in appearance, and with 1.6-litre engine, five-door body and fivespeed gearbox, all in at £4,696. This must pose some anxieties for Ford, whose equivalent Escort is getting on for £1,000 more. Datsun haven't yet submitted this new car to full test in Autocar; when they do, it will be interesting to see how it compares. Shortly we will also see here the new front-drive Sunny which was at the recent Geneva Motor Show.
Behind these two major manufacturers come the smaller companies whose products have more individuality — Mazda, Colt, Honda, and the fairly recent additions, Subaru and Daihatsu. Honda launched an impressive new Accord last year, and the Civic is now offered as the S. with two-door body and 10 more bhp from its 1,335cc engine, bringing it into line with the form as used in the Triumph Acclaim. To the range of Daihatsu models, previously restricted to very small economy cars with little appeal for business use, has been added the Charmant. A medium-sized car, it has clean, simple styling, and the body is Protectol-treated and comes with an eight-year warranty. Moves like this must aid usedcar values. It has rear-wheel drive, and comes with choice of 1,290 or 1,588cc engine and fivespeed manual or three-speed automatic.
Subaru's position is unique — their cars have a horizontally-opposed four-cylinder engine of 1,600 or 1,800cc, and the fourwheel drive version proves a popular low-cost alternative to established cross country vehicles. With cars that are so different from the ordinary run, Subaru can easily sell all they are able to import.
The same is true of Colt, whose cars include the 1400 with the refinement of twospeed final drive. Colt have set up a tempting arrangement with UDT, aimed at the small businessman and the self-employed. For £50 one can drive away any new Colt, and the balance is spread over 36 months on a finance lease or lease purchase scheme. Offers such as this must be matched by the big European manufacturers if they are not to begin losing sales to Japan.
With their beautifully engineered 796 and 970cc engines, Suzuki is the other Japanese make available here. Their small cars are strictly for the private buyer, but small businesses, farmers and others needing offroad transport are attracted by their little cross-country fourwheel drive runabout. They also offer an economical little van.
The self-imposed restriction for Japanese manufacturers not to take more than 11 per cent of the market share in Britain has produced a highly artificial situation, restricting real efforts to sell hard. When the agreement ends, as eventually it must, there could be a dramatic increase in the Japanese share of the market, with much higher penetration of the business car sector because many of their cars are now beginning to show real merit.