The discreet presence of the light Japanese
3rd April 1982
Page 18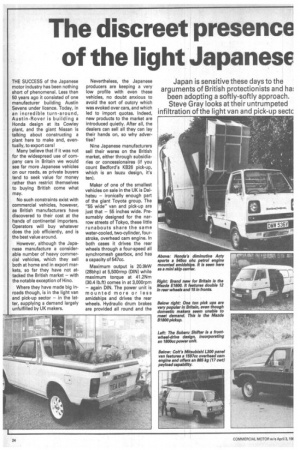 Page 19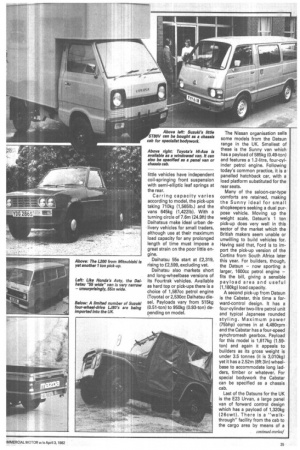 Page 20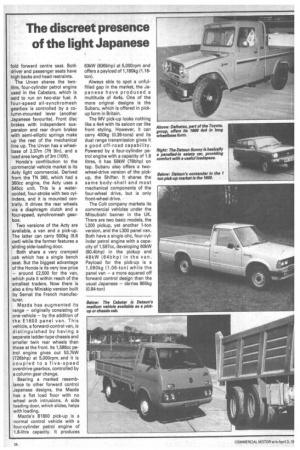 Page 21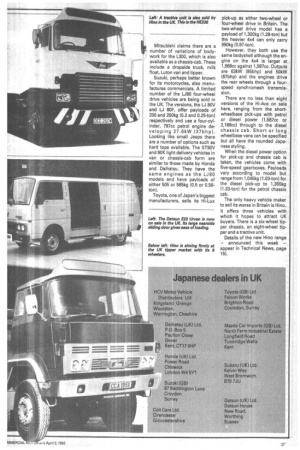 Page 18, 3rd April 1982 —
The discreet presence of the light Japanese
Close
Japan is sensitive these days to the arguments of British protectionists and ha: been adopting a softly-softly approach. Steve Gray looks at their untrumpeted infiltration of the light van and pick-up sectc
THE SUCCESS of the Japanese motor industry has been nothing short of phenomenal. Less than 50 years ago it consisted of one manufacturer building Austin Sevens under licence. Today, in an incredible turn-around, Austin-Rover is building a Honda design at its Cowley plant, and the giant Nissan is talking about constructing a plant here to make and, eventually, to export cars!
Many believe that if it was not for the widespread use of company cars in Britain we would see far more Japanese vehicles on our roads, as private buyers tend to seek value for money rather than restrict themselves to buying British come what may.
No such constraints exist with commercial vehicles, however, as British manufacturers have discovered to their cost at the hands of continental importers. Operators will buy whatever does the job efficiently, and is the best value around.
However, although the Japanese manufacture a considerable number of heavy commercial vehicles, which they sell both at home and in export markets, so far they have not attacked the British market — with the notable exception of Hino.
Where they have made big inroads though, is in the light van and pick-up sector — in the latter, supplying a demand largely unfulfilled by UK makers. Nevertheless, the Japanese producers are keeping a very low profile with even these vehicles, no doubt anxious to avoid the sort of outcry which was evoked over cars, and which led to import quotas. Indeed, new products to the market are introduced quietly. After all, the dealers can sell all they can lay their hands on, so why advertise?
Nine Japanese manufacturers sell their wares on the British market, either through subsidiaries or concessionaires (if you count Bedford's KB26 pick-up, which is an lsuzu design, it's ten).
Maker of one of the smallest vehicles on sale in the UK is Daihatsu — ironically enough part of the giant Toyota group. The "55 wide" van and pick-up are just that — 55 inches wide. Presumably designed for the narrow streets of Tokyo, these little runabouts share the same water-cooled, two-cylinder, fourstroke, overhead cam engine. In both cases it drives the rear wheels through a four-speed all synchromesh gearbox, and has a capacity of 547cc.
Maximum output is 20.9kW (28bhp) at 5,500rmp (DIN) while maximum torque at 41.2Nm (30.4 lb.ft) comes in at 3,000 rpm — again DIN. The power unit is mounted more or less amidships and drives the rear wheels. Hydraulic drum brakes are provided all round and the little vehicles have independent coil-springing front suspension with semi-elliptic leaf springs at the rear.
Carring capacity varies according to model, the pick-ups taking 710kg (1,5651b.) and the vans 645kg (1,4221b). With a turning circle of 7.6m (24.9ft) the Daihatsus make ideal urban delivery vehicles for small traders, although use at their maximum load capacity for any prolonged length of time must impose a great strain on the poor little engine.
Daihatsu 55s start at £2,319, rising to £2,599, excluding vat.
Daihatsu also markets short and long-wheelbase versions of its Fourtrak vehicles. Available as hard top or pick-ups there is a choice of 1,587cc petrol engine (Toyota) or 2,530cc Daihatsu diesel. Payloads vary from 515kg (0.51-ton) to 950kg (0.93-ton) depending on model. The Nissan organisation sells some models from the Datsun range in the UK. Smallest of these is the Sunny van which has a payload of 585kg (0.49-ton) and features a 1.2-litre, four-cylinder petrol engine. Following today's common practice, it is a panelled hatchback car, with a load platform substituted for the rear seats.
Many of the saloon-car-type comforts are retained, making the Sunny ideal for small shopkeepers seeking a dual purpose vehicle. Moving up the weight scale, Datsun's 1 ton pick-up does very well in this sector of the market which the British makers seem unable or unwilling to build vehicles for. Having said that, Ford is to import the pick-up version of the Cortina from South Africa later this year. For builders, though, the Datsun — now sporting a larger, 1600cc petrol engine — fits the bill, giving a sensible payload area and useful (1,180kg) load capacity.
A second pick-up from Datsun is the Cabstar, this time a forward-control design. It has a four-cylinder two-litre petrol unit and typical Japanese rounded styling. Maximum power (75bhp) comes in at 4,480rpm and the Cabstar has a four-speed synchromesh gearbox. Payload for this model is 1,617kg (1.59ton) and again it appeals to builders as its gross weight is under 3.5 tonnes (it is 3,010kg) yet it has a 2.52m (8ft 3in) wheelbase to accommodate long ladders, timber or whatever. For special bodywork the Cabstar can be specified as a chassis ,cab.
Last of the Datsuns for the UK is the E23 Urvan, a large panel van of forward control design which has a payload of 1,320kg (26cwt). There is a "walkthrough" facility from the cab to the cargo area by means of a fold forward centre seat. Both driver and passenger seats have high backs and head restraints.
The Urvan shares the twolitre, four-cylinder petrol engine used in the Cabstars, which is said to run on two-star fuel. A four-speed all-synchromesh gearbox is controlled by a column-mounted lever (another Japanese favourite). Front disc brakes with independent sus pension and rear drum brakes with semi-elliptic springs make up the rest of the mechanical line up. The Urvan has a wheelbase of 2.37m (7ft Sin), and a load area length of 3m (loft).
Honda's contribution to the commercial vehicle market is its Acty light commercial. Derived from the TN 360, which had a 360cc engine, the Acty uses a 545cc unit. This is a water cooled, four-stroke with two cylinders, and it is mounted cen trally. It drives the rear wheels via a diaphragm clutch and a four-speed, synchromesh gearbox.
Two versions of the Acty are available, a van and a pick-up.
The latter can carry 500kg (9.8 cwt) while the former features a sliding side-loading door.
Both share a very cramped cab which has a single bench seat. But the biggest advantage of the Honda is its very low price — around £2,500 for the van, which puts it within reach of the smallest traders. Now there is also a tiny Miniskip version built by Semat the French manufacturer.
Mazda has augmented its range — originally consisting of one vehicle — by the addition of the E1600 panel van. This vehicle, a forward-control van, is distinguished by having a separate ladder-type chassis and smaller twin rear wheels than those at the front. Its 1,586cc pe trol engine gives out 53.7kW (726bhp) at 5,000rpm. and it is coupled to a five-speed overdrive gearbox, controlled by a column gear change.
Bearing a marked resemblance to other forward control Japanese designs, the Mazda has a flat load floor with no wheel arch intrusions. A side loading door, which slides, helps with loading.
Mazda's B1800 pick-up is a normal control vehicle with a four-cylinder petrol engine of 1.8-litre capacity. It produces 63kW (836bhp) at 5,000rpm and offers a payload of 1,180kg (1.16ton).
Always able to spot a unfulfilled gap in the market, the Japanese have produced a multitude of 4x4s. One of the more original designs is the Subaru, which is offered in pickup form in Britain.
The MV pick-up looks nothing like a 4x4 with its saloon car like front styling. However, it can carry 400kg (0.39-tons) and its dual range transmission gives it a good off-road capability. Powered by a four-cylinder petrol engine with a capacity of 1.8 litres, it has 59kW (79bhp) on tap. Subaru also offers a twowheel-drive version of the pickup, the Shifter. It shares the same body-shell and most mechanical components of the four-wheel drive, but is only front-wheel drive.
The Colt company markets its commercial vehicles under the Mitsubishi banner in the UK. There are two basic models, the L200 pickup, yet another 1-ton version, and the L300 panel van. Both have a single ohc, four-cylinder petrol engine with a capacity of 1,597cc, developing 60kW (80.4bhp) in the pickup and 4 8kW (6 4bhp) in the van. Payload for the pick-up is a 1,080kg (1.06-ton) while the panel van — a more squared off forward control design than the usual Japanese — carries 865kg (0.84-ton) Mitsubishi claims there are a number of variations of bodywork for the L300, which is also available as a chassis-cab. These include a dropside truck, milk float, Luton van and tipper.
Suzuki, perhaps better known for its motorcycles, also manufactures commercials. A limited number of the LJ80 four-wheel drive vehicles are being sold in the UK. The versions, the LJ 80V and LJ 80F, offer payloads of 200 and 250kg (0.2 and 0.25-ton) respectively and use a four-cylinder, 797cc petrol engine developing 2 7.6kW (3 7bhp). Looking like small Jeeps there are a number of options such as hard tops available. The ST9OV and 90K light delivery vehicles in van or chassis-cab form are similar to those made by Honda and Daihatsu. They have the same engines as the LJ8 0 models and have payloads of either 505 or 565kg (0.5 or 0.56ton).
Toyota, one of Japan's biggest manufacturers, sells its Hi-Lux pick-up as either two-wheel or four-wheel drive in Britain. The two-wheel drive model has a payload of 1,300kg (1.28-ton) but the heavier 4x4 can only carry 990kg (0.97-ton).
However, they both use the same bodyshell although the engine on the 4x4 is larger at 1,968cc against 1,587cc. Outputs are 63kW (85bhp) and 50kW (67bhp) and the engines drive the rear wheels through a fourspeed synchromesh transmission.
There are no less than eight versions of the Hi-Ace on sale here, ranging from the shortwheelbase pick-ups with petrol or diesel power (1,587cc or 2,188cc) through to the diesel chassis cab. Short or long wheelbase vans can be specified but all have the rounded Japanese styling.
When the diesel power option for pick-up and chassis cab is taken, the vehicles come with five-speed gearboxes. Payloads vary according to model but range from 1,045kg (1.03-ton) for the diesel pick-up to 1,355kg (1.33-ton) for the petrol chassis cab.
The only heavy vehicle maker to sell its wares in Britain is Hino. It offers three vehicles with which it hopes to attract UK buyers. There is a six-wheel tipper chassis, an eight-wheel tipper and a tractive unit.
Details of the new Hino range — announced this week — appear in Technical News, page